Creamy jalapeno avocado sauce loaded with avocado with a hint of heat from jalapeño.
It's a fabulous sauce that goes perfect topping for a spicy black bean taco or any variety of taco for that matter.
Think of any Mexican delicacies like burritos, nachos, and tacos. Or pair it with vegetable sticks or chips. This creamy jalapeño avocado sauce is a fabulous dish to pair with any main food.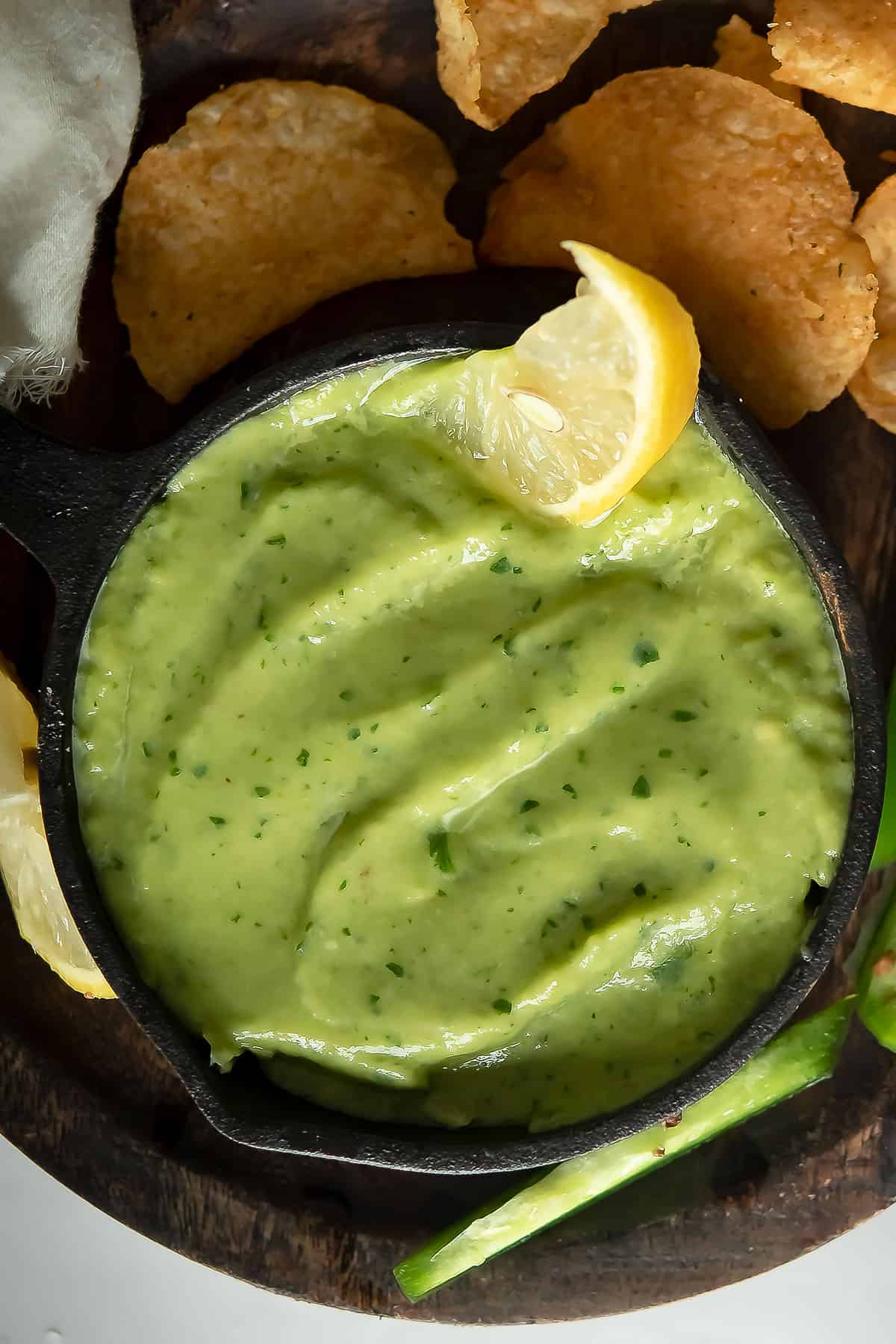 It's a super handy sauce that requires just ingredients, including the salt.
Whip up all the ingredients using a blender, hot and spicy quick sauce is ready in a flash of seconds.
Another versatile dish(like this honey sriracha) that is good to serve as a side dish or toss over pasta to make a quick weeknight meal.
Or else drizzle over the salad as a salad dressing.
The choice of using this hot and spicy sauce is unlimited. Serve with your favorite taco or burrito.
Within a few minutes of time, you can make this quick jalapeno avocado sauce if all the ingredients are handy. It's a well worth a recipe to try with rich flavors.
Ingredients for jalapeño avocado sauce
Avocado. Fresh, ripe avocados are best suited for the recipe. For the smooth and silky consistency of perfectly ripe avocado is the best. You may test them by pressing them if it's soft-they are plentiful in this recipe.
Fresh cilantro. This brings out the refreshing flavors that bind well with avocado and jalapeño(much like this jalapeño cilantro sauce). Parsley is also an excellent ingredient to substitute with.
Lime juice. Fresh lime juice enhances the flavors and adds sharp sourness. Lemon juice is also a suitable substitution.
Jalapeño. Provides a rich color and is responsible for the overall warmth of this avocado jalapeno cilantro sauce. Fresh jalapeño brings out the bright flavors and adds a subtle heat with vibrant flavors.
However, you may also swap with the roasted jalapeños or frozen jalapeños also works well.
How to make
Add all the ingredients to a food processor, or a blender jar.
Blend them until the mixture turns to a smoother consistency.
And use immediately as a dip or as a topping for the taco.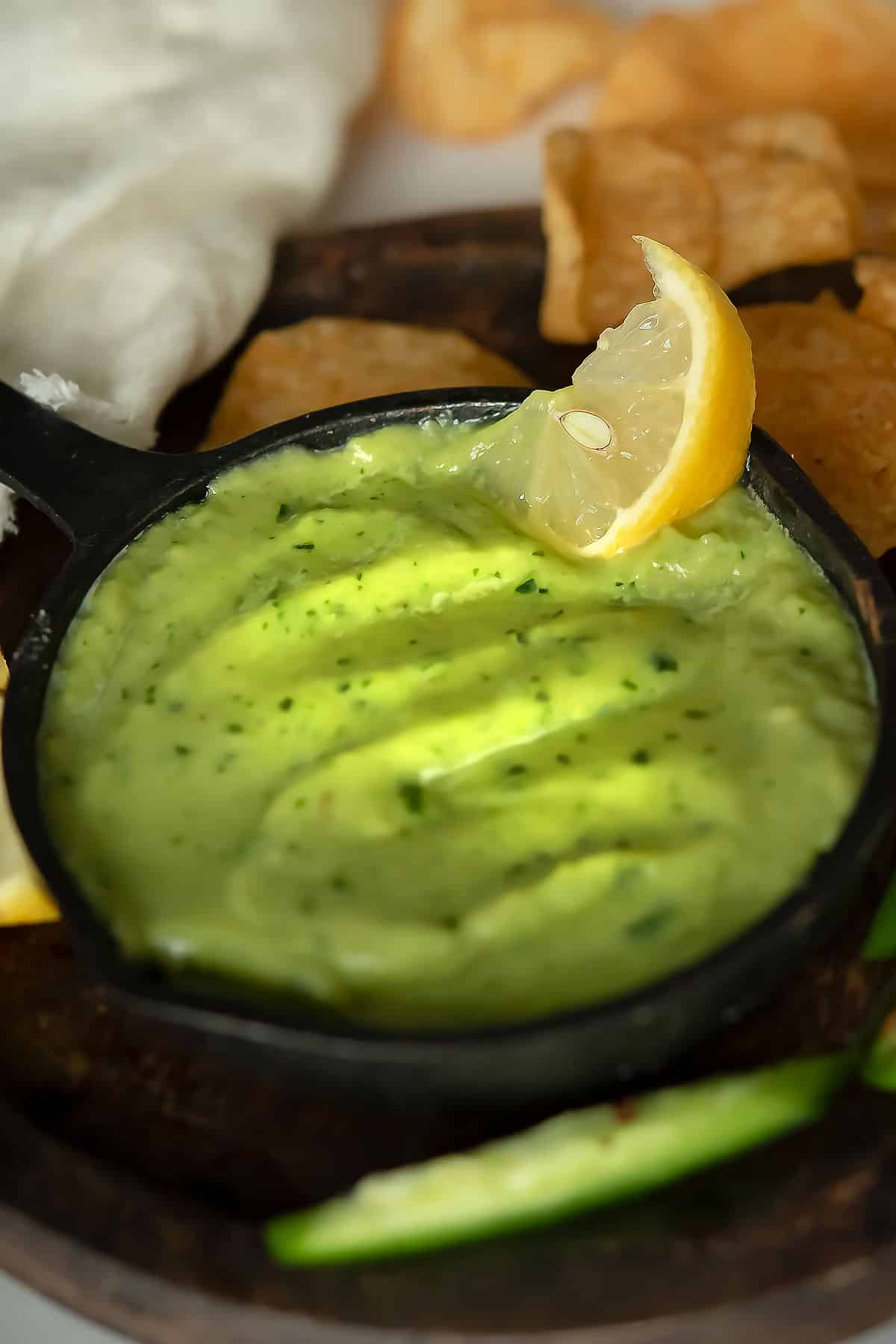 How to serve
As a dip. Chips, fresh-cut vegetables, or tortillas, taste delicious with this simple, guilt-free dip. It's great to spice up the game day or family gatherings.
Breakfast. Make a satisfying breakfast sandwich. Enjoy jalapeno avocado sauce with a scoop over the breakfast casserole, quiche, or savory pancake.
As a dressing. Try this sauce with a simple garden fresh salad or Mexican salad.
As the base sauce. Toss with your favorite pasta dish, and enjoy the healthy spin.
As a topping. Try slathering over a burger, sandwich, or taco.
Storage Tips
Avocado's color changes within a couple of hours after cutting. Not only avocado but any fruit starts the decaying process quickly.
Hence, it's always a good idea to consume this jalapeno avocado sauce as soon as it's made.
However, if you plan to store this sauce for a long time, refrigerate or freeze it immediately by securing it in an airtight container.
Frequently asked questions
How to use this avocado hot sauce?
You can use this spicy sauce with any Mexican dish, as a dip or side dish. You may also use it as a topping layer in a taco, sandwich, or burger.
Is this creamy jalapeno sauce spicy?

This sauce is mildly spiced as we have removed the core and the seeds of jalapeno while making the sauce.
How to increase the heat?

Since we have removed the entire white membrane and the seeds, this avocado sauce is low in heat. However, if you prefer the sauce to flaming hot, add the jalapeño (along with the seeds and the pith).
How to minimize the heat?
We made this sauce only with the flesh of the jalapeño. Hence, it will be mildly hot. If you prefer bringing down the heat further, swap half of the jalapeños quantity with the green pepper.
This way, the peppery flavor is retained with the minimal heat in jalapeno avocado sauce. You may also adjust the combination of the jalapeño and the green pepper to suit your heat tolerance.

Recommended tools to make this recipe
Blender. To create that lusciously creamy and dreamy avocado sauce.
Chef's knife. For dicing the vibrant, spicy jalapenos and the buttery avocado.
Measuring spoons. For balancing the fresh lime, salt, and spices perfectly.
Printable recipe card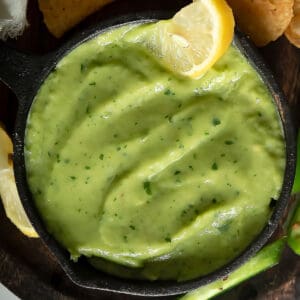 Jalapeno avocado sauce
This jalapeno avocado sauce is a fabulous sauce that goes perfect topping as a topping for taco or sandwich. Also great to enjoy as dipping.
Print
Pin
Rate
Ingredients
2

avocado

1

jalapeno

deseeded

½

cup

plain Greek yogurt

2

tablespoon

lemon juice

¼

cup

cilantro

¼

teaspoon

salt

or as required
Instructions
Remove the avocado skin and the stone.

Remove the seeds and the pith of the jalapeno. Chop the flesh and reserve the seeds to add them later to choose individual's heat tolerance).

In the blender jar, add avocado flesh, chopped jalapeno, Greek yogurt, lemon juice, salt, and chopped cilantro.

Blend until it becomes smooth consistency. Enjoy!!
Notes
Store the leftover in the refrigerator for up to 2 days.
Adjust adding the jalapeno seeds according to your heat tolerance.
Nutrition
Calories:
179
kcal
|
Carbohydrates:
10
g
|
Protein:
5
g
|
Fat:
15
g
|
Saturated Fat:
2
g
|
Polyunsaturated Fat:
2
g
|
Monounsaturated Fat:
10
g
|
Trans Fat:
0.003
g
|
Cholesterol:
1
mg
|
Sodium:
162
mg
|
Potassium:
544
mg
|
Fiber:
7
g
|
Sugar:
2
g
|
Vitamin A:
253
IU
|
Vitamin C:
17
mg
|
Calcium:
41
mg
|
Iron:
1
mg
**Disclaimer: The nutritional information provided is an approximate estimate only.