Mango is in season now, are you exploring various recipes to use them in the most enjoyable way? A simple recipe like this spicy mango with chili powder does not require any kitchen skills. Plus, it gives you immense pleasure with its unique taste and flavor.
A spiced mango snack is made in under a few minutes. Thinking about the heat? Don't worry; you can adjust the spice level to your preference.
Consider this mango with chili powder recipe, if you want to include fruits in your menu more often than you could. And this mango with chili powder will not disappoint you for sure.
The goodness of mango
The famous street food in most of the tropical countries. A simple snack and sprinkle snack blows our minds with all its natural flavors and tastes.
Spiced mango is one of the first few recipes I try to make when mangoes are in season. The next I make is mango juice. My point is to consume the seasonal fruits that nature gifts me. Also, mango is rich in vitamin C, and a good source of copper, folate, and vitamin B6.
Selecting the mango
For this mango with chili powder recipe, the mango should be neither too ripe nor too green. The mango should be firm. When you touch it, the mango's skin should be soft and intact, making it easy to make a delicious forkable snack.
Numerous varieties of mango are available and all those varieties are excellent here. But the only thing to be considered here is the taste of the mango. If the mango is slightly sour, increase the quantity of chili powder and vice versa.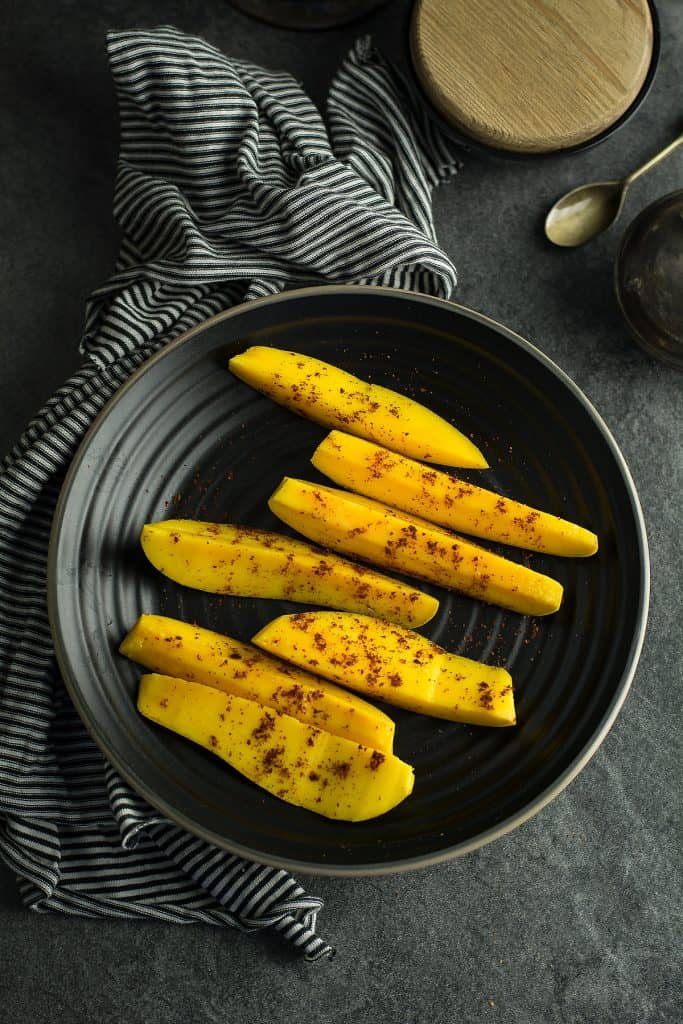 Selecting the chili powder
Every region has its version of chili powder. And the chili powder available here in the United States is a blend of spices.
Usually made with paprika, cayenne pepper, garlic, cumin, oregano, and onion powder. And this spice mix gives a chili mango a robust flavor, that is very addictive.
You may use store-bought chili powder or make your own, combining paprika, cayenne pepper, ground cumin, garlic powder, onion powder, and oregano powder.
Do you want to spice up the chili powder? try blending the super hot cayenne pepper powder, or Indian red chili powder. Proceed with caution; this is super fiery. Just a pinch goes a long way.
More mango recipes
How to make mango with chili powder
Cut the mango into wedges.
Arrange them in the cups(which makes it easy to serve and snack).
Sprinkle chili powder, salt, and lime juice.
And serve.
Serving suggestions
Midday Snack. A healthy spicy fruit snack to munch on without any guilt. Best to have as a midday snack, when you crave something to eat. It is a good and refreshing alternative for all those fancy store-bought processed snacks.
Appetize in Party. Fruits are usually served as desserts, but this Mexican mango with chili powder tastes excellent when done at the beginning of the course. Best finger food fit for a party or potluck; the guests will love them surely.
How long to store?
Fresh fruits are always suitable and advisable to consume as soon as we cut. The mango loses its freshness and its extraordinary flavors every hour after cutting. The sooner you serve, the more possibility you have to intake all the goodness of mango.
However, depending on the firmness, it can lengthen its serving time when refrigerated. There are no strict rules; it may stay good for 6 hours to 1 day according to the freshness of this tropical fruit. The firm mangoes remain longer than they ripen.
The Variations
We can list tons of variations for this mango with chili powder according to the time of serving.
If time is the primary constraint, sprinkle chili powder, salt, and lime juice. These three ingredients alone can do wonders. However, when serving for a party, consider the following,
Crushed black pepper. One of the other spices works excellently here.
Ground cumin. Add-in for making the fruit more aromatic.
Papaya. Add papaya wedges along with the spiced and salted mango wedges.
Cucumber. It also complements the taste and texture of this snack.
Pineapple. This is another tropical fruit that I love to pair with.
FAQ
Why should the mango be firm?
Too ripened mango, cannot hold its shape once cut down for the mango with chili powder recipe. Moreover, the ripened mango has its natural sweetness and may not work well when combined with chili powder. Compared with ripening and green mango, the green mango plays great with chili powder.
How to spice down the mango?
Once you served the cut mango and found it too spicy to handle? Rinse them in the running water; the water takes away the spice coating. Then pat it with a kitchen towel, and sprinkle the spice to your choice.
Can you eat mango skin?
Mango skin is edible and packed with antioxidants, fibers, and minerals. Alternatively, it might also have pesticide and chemical residue. So always rinse well before serving.
I like to eat the mango with its skin(when it is soft and tender).
Printable recipe card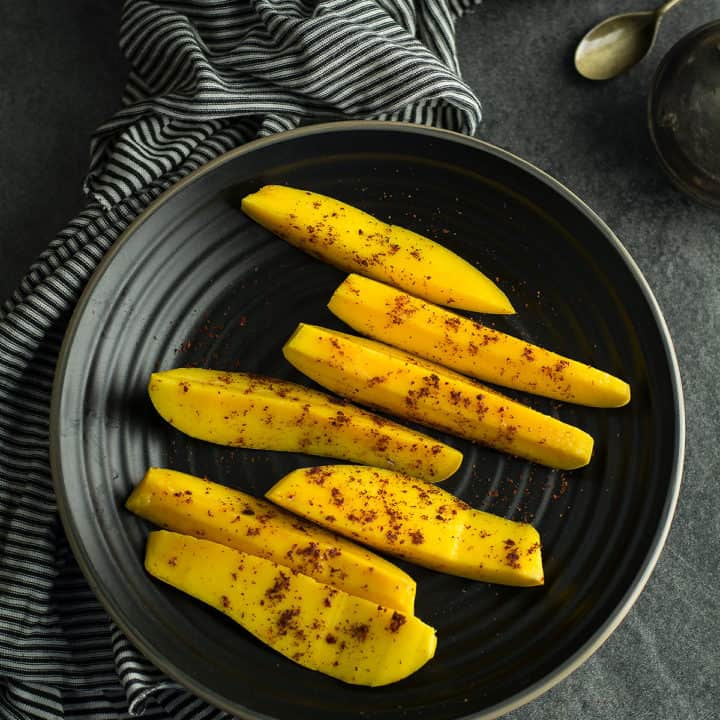 Mango with chili powder
The simple recipe like this mango with chili powder does not require any kitchen skills. But gives you immense pleasure with its taste and flavor.
Print
Pin
Rate
Ingredients
2

mango

½

teaspoon

chili powder

⅙

teaspoon

salt

1

teaspoon

lime juice
Instructions
Cut the mango into wedges.

Arrange them over the serving plate.

Sprinkle chili powder and salt.
Notes
If you feel it too spicy to handle, combine with more onion powder, garlic powder. This way you are reducing the heat and increase the flavors.
The leftover can be refrigerated for a day.
Nutrition
Calories:
126
kcal
|
Carbohydrates:
31
g
|
Protein:
2
g
|
Fat:
1
g
|
Saturated Fat:
1
g
|
Sodium:
204
mg
|
Potassium:
348
mg
|
Fiber:
3
g
|
Sugar:
28
g
|
Vitamin A:
2388
IU
|
Vitamin C:
76
mg
|
Calcium:
23
mg
|
Iron:
1
mg
**Disclaimer: The nutritional information provided is an approximate estimate only.