When I made this sriracha tuna avocado wrap for the first time, I could not believe that a healthy dinner loaded with vegetables was made in a flash of time.
My love for quick dinner recipes always leads me to search/discover many varieties of recipes. And, this spicy tuna lettuce wrap recipe is the one that we have found recently and soon became one of our new favorites of all time.
The filling is spicy, moist, loaded with vegetables, tuna. And finished with a squeeze of fresh lemon juice. Every single bite would declare a state of absolute deliciousness.
And this recipe is so quick, like instant. And easy to put it together without any fuss. When all the ingredients are kept ready, you can make it in no time. A large thanks to this simple and straightforward meal. This recipe is a keeper for busy weeknight meals.
Spicy tuna wrap-easy to find ingredients
Tuna. Canned tuna is a perfect ingredient for making effortless dishes. And it works wonderfully in recipes like this spicy tuna wrap. On top of it, using canned tuna is pantry friendly and easy as well. Also it's packed with omega-3 fatty acids.
Mayonnaise. It's creamy and acts as a binding agent and gives the body to the tuna.
Sriracha sauce. What else the mind will think of when spicing up a recipe. This spicy store bought sauce has a depth of flavor with an intense heat. And this turns out to be a big delightful ingredient when combined with tuna.
Red pepper. Adds a crunch and enhances the texture of the filling inside And a great ingredient that compliments well with co-ingredients-tuna and mayonnaise.
Lettuce. Has mild flavor and a soft crispiness. Also blends with the flavors of this spicy wrap.
Wrap. I have used the regular white tortilla wrap. You may use other type of wraps as well.
How to make spicy tuna wrap
Prepping. Drain the tuna and flake it if they are in chunks. Or if the tuna already flaked then, squeeze and drain the excess liquid.
Cut lettuce into small chunks. Thinly slice the red pepper. Scoop the avocado, and slice into thin strips.
Make the filling. In a mixing bowl add tuna, mayonnaise, Sriracha sauce, roasted red pepper flakes, and salt. Stir well until all the ingredients combine together.
Stuffing. Place the wrap over the flat surface. And scoop the filling and place them on the one side of the wrap by leaving two inches from its edge.
Wrap well and serve immediately.
Serving suggestions
Serve immediately as soon as it's made to avoid the wraps becoming soggy.
If you are planning to serve the wrap after sometime, you may make the filling ahead of time and refrigerate. And make a wrap whenever needed.
For extra variations, drizzle spicy homemade sauce like this honey Sriracha sauce.
Tips and variations
Yield. This spicy tuna wrap is good to serve for at least two people.
Make ahead. Make the filling upto 2 days in advance. And wrap with the filling just before serving.
Freeze. On the other hand, you may freeze this spicy tuna wrap for up to two months. To thaw, place them in the refrigerator overnight. And reheat it until it turns warm in the oven or in the microwave.
Vegetables. Substitute red pepper with julienne cut carrots, cucumber, or green pepper, to make it nutrient rich.
Sour cream. Replace the mayonnaise with the sour cream for luscious flavors.
Lettuce. Spinach, baby kale are the best to swap lettuce.
Best to serve with
Soup. Any simple soup recipes would be awesome to pair with, especially this spicy tortellini soup, roasted tomato soup, tomato paste soup.
Salad. Homemade salads like spicy kale salad, cucumber mango salad, fiesta salads are our home's favorite.
Side dishes. Creamy jalapeno corn, spicy rigatoni, Cajun deviled eggs, pepperonata, are some of the delicious side dishes to accompany with this spicy tuna wrap.
Tools suggested to make this recipe
Mixing bowls. Good grip mixing bowls makes the prepping work a lot easier.
Measuring cups. I have these and they work great for me.
Cutting board. Non slip, good quality boards makes this spicy tuna wrap an effortless dish.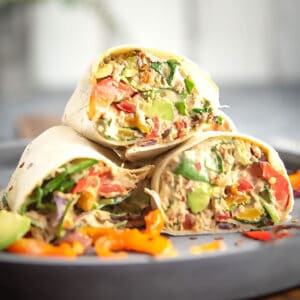 Ingredients
1

can

tuna packed in water or oil

5 oz

2

tablespoon

mayonnaise

1

avocado

1

tablespoon

Sriracha sauce

½

teaspoon

roasted red pepper flakes

¼

teaspoon

salt

½

cup

red pepper

thinly sliced

1

cup

lettuce

1

teaspoon

lemon juice

2

flour tortillas large
Instructions
Prepping
Flake the runa into fine chunks and discard the excess liquid.

Slice the red pepper thinly. Dice the lettuer.Scoop the avocado and slice it thinly as well.
Filling
In a mixing bowl, combine all the ingredients except tortilla wraps.

And stir well with a long wooden ladle untila ll the ingredient combined together.
Nutrition
Calories:
272
kcal
|
Carbohydrates:
12
g
|
Protein:
3
g
|
Fat:
25
g
|
Saturated Fat:
4
g
|
Polyunsaturated Fat:
8
g
|
Monounsaturated Fat:
12
g
|
Trans Fat:
1
g
|
Cholesterol:
6
mg
|
Sodium:
564
mg
|
Potassium:
632
mg
|
Fiber:
8
g
|
Sugar:
3
g
|
Vitamin A:
1514
IU
|
Vitamin C:
65
mg
|
Calcium:
23
mg
|
Iron:
1
mg