This Carolina reaper belongs to the capsicum Chinense family. A well-renowned breeder from North Carolina, Ed Curry, created this hot chili pepper. And holds the title of the 'world's hottest chili pepper' from the Guinness Book of Records in the year 2017.
And until now(as of May 2022), the Carolina Reaper holds this world title.
It has a fruity flavor and with an intense heat. And reported to have about 2.2 million SHU on the Scoville scale(where green bell pepper is recorded at 0 SHU and jalapeno peppers average 5000 SHU).
What is Carolina Reaper?
It's the world's hottest pepper, created in the year of 2013. This crossbreed is between the Saint Vincent and Nagao viper pepper from Pakistan.
It is considered one of the most popular types of peppers in the commercial markets of the United States. The leading food companies and pepper enthusiasts are developing new flavors to spice up various foods.
Currently, conventional food items like salsa, chips, beef jerky, chips, and peanuts are being infused with hot Carolina reaper and introduced in the market.
These hot and spicy foods have been welcomed and endorsed by people across the world in recent years.
What do these peppers look like?
It has a long, sharp, pointed tail. This chili pepper is named after its resemblance to the weapon-reaper.
The fully ripe Carolina reaper looks with glossy, wrinkled skin and bright red color, an elongated round structure, and a sting-like tail at the end.
Its young pods start to grow in a green color. As they mature, their color transforms to orange and deep red color.
This hot chili pepper looks more diminutive, measuring about 1 inch wider and 1 to 1.5 inches in lengthwise.
Typically a pepper's bright color, the petite structure, and the wrinkled skin indicate the power-packed concentrated heat. And this statement is a pure example of this Carolina reaper.
What do they taste like?
The red-colored, ripened Carolina reaper tastes mildly sweet with a concentrated heat and a fruity flavor. The young green pods taste grassy with rich warmth that stays.
The ripened peppers are the most common to find in the commercial markers.
Irrespective of its maturity, this has a concentrated heat. And has the potential to create skin irritation and a burning sensation. The symptoms can last up to 20 minutes or longer.
Needless to say, the symptoms vary for each individual. Hence, always proceed with caution when handling any pepper, including this Carolina reaper.
What's the Scoville scale units of Scotch bonnet chili peppers?
This hot and spicy pepper was bred by Pickerbutt Pepper Company in South Carolina. And was recorded at the high of 2,192, 431 Scoville heat units in the laboratory of Winthrop University.
It has the strongest capsaicin(a chemical compound responsible for the heat). It could create a burning sensation and itchy irritation.
The mouth, eyes, and ears are the most vulnerable areas; always wear gloves and carefully remove them after use. And always make sure not to touch the sensitive parts of the body like the face, or eyes while handling this pepper.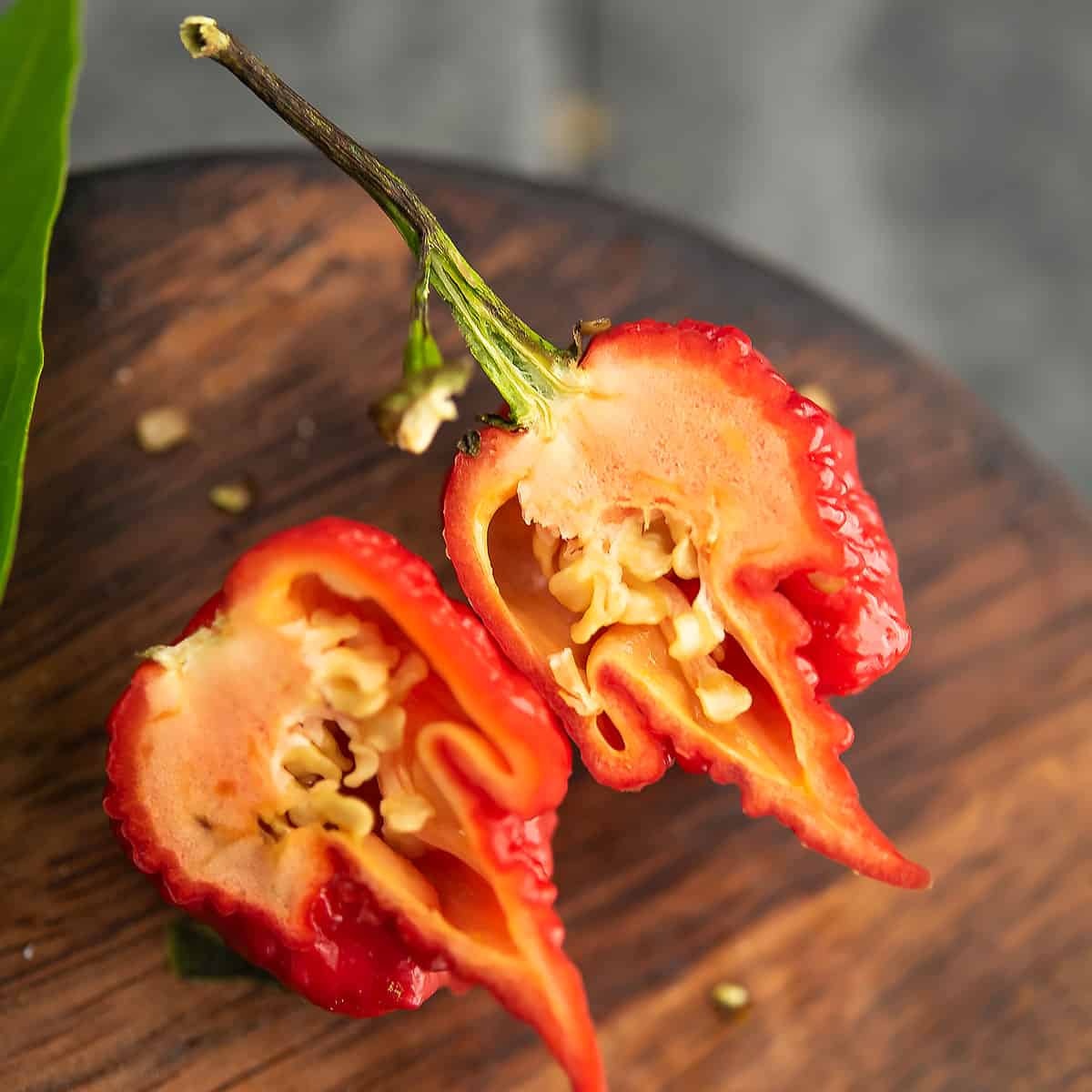 How to use them in recipes
If you are searching for a hot condiment or a seasoning to spice up your dishes, there are many options. Some are compiled as follows.
As a spice blend. Dehydrate by sun drying, or using a dehydrator. And blend it to a powder. And experiment by mixing it with your favorite spice blend.
In salsa/salad. Mince the peppers and toss them to the salad or salsa. Remove the seeds to minimize the heat.
Stir fry. Stir in chopped pepper to any stir fry and wait for the sizzle.
Dressing. Blend fresh or processed pepper into your regular sauce and feel the tremendous heat it brings in.