Cajun scrambled eggs made with elegant flavors from the cajun seasoning. It's both creamy and spicy, also soft and moist. It's super easy to make with simple ingredients under 10 minutes.
Egg scrambles, yes, every one of us knows how to make it. But how about making it with the popular spicy seasoning?
Well, this cajun scrambled eggs post would help beginners who interested in trying out new flavors and thus make life colorful.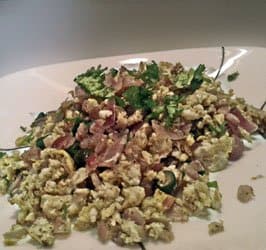 Handling the eggs is the first thing I learned in the kitchen. I remember my school days when my mom taught me to make this. I always wonder like magic in front of my eyes. The gooey mixture turns into perfect crumbles...wow ..it is a feast for the eyes.
About this recipe
Perfect cajun scrambled eggs need constant stirring, as the eggs heat up quickly and sometimes lead to burning on the edges. Burning and sticking at the bottom give out a nonedible smell. When the eggs scramble gets burned, the entire kitchen may stink.
So, learning the fail-proof method for making our favorite egg scrambles is required.
This is one of the highly delectable breakfast recipes. It is a savory breakfast of eggs that makes everyone fall in love with.
If you have mastered this cajun scrambled eggs recipe, You may also check out other egg recipes like Indian Egg Gravy, Egg Bread Cups, and Baked Eggs for the kids, which could also become the most straightforward job.
Cajun seasoning and eggs
After I tried this seasoning for the first time, I was overwhelmed by its simplicity and started exploring all the recipes I could make. I was astonished with the results with cajun seasoning sprinkled over the scrambled eggs.
The seasoning gave me a new facelift that I did not expect. After the first encounter, my journey is never-ending. And still exploring the more Cajun recipes.
How to make cajun scrambled eggs?
The ingredients
Eggs. I use organic brown eggs; I like them being creamy with subtle flavor. But feel free to use the ones you regularly use.
Butter. The butter and egg combo is inseparable, but swapping with olive oil is also a significant flavorful variation. When using salted butter, adjust the quantity of the salt.
Cajun seasoning. Use the store-bought seasoning and homemade seasoning.
Black pepper. Adds up the heat and nutty flavors. Stir in finely chopped jalapeno or bell pepper to spice up the Cajun scrambled eggs.
The recipe directions
Add eggs, salt, black pepper, and Cajun seasoning in a mixing bowl.
Whisk until all the ingredients are combined and become fluffy.
Place a pan over medium heat, add butter. And allow it to melt down.
Add the spiced egg mixture and pour in.
Once the sides start leaving out the pan, use a spatula and fold and bring the sides to the center. Keep repeating until the eggs get cooked and become scrambles.
Remove it from the heat and serve with bread or vegetables.
Storing Ideas
Refrigerate. Store the leftovers in an air-tight container and use them for up to 2 days.
Freeze. Yes, Cajun scrambled eggs can be frozen. Eggs are delicate when it comes to storing. If making for parties or looking for make-ahead options, freeze them as soon as you make it.
To do this, as soon as the cooking part is done. Bring the eggs to room temperature. Then, immediately transfer them to the airtight containers and freeze them. Ensure not to leave it on the kitchen counter for over an hour.
How to reheat?
Thaw. Thawing is required for the frozen Cajun scrambled eggs. Leave it in the refrigerator overnight—alternatively, microwave for immediate use.
For the stovetop method, Heat a pan with the butter. Then, add the eggs and stir continuously. Butter cooks the eggs softer than the cooking oil. And discard any liquid that comes out from the eggs.
For the microwave method, Add the Instant Pot scrambled eggs to the microwave-safe bowl. Close it with a paper towel to avoid any splutter. Then cook for 30 seconds, then give a stir, and again cook in this way until the eggs are done completely.
The variations
Add fresh herbs like cilantro or mint to make your Cajun scrambled eggs more delicious.
If you have time and want to make this recipe even more colorful, you may add grated carrots and grated cabbage. They also blend perfectly with eggs and make your food worth anything.
Add in chopped bell pepper or jalapeno for more heat.
Saute chopped onion, and then add the egg mixture. This instantly increases the quantity and also provides a crunchy texture.
Other spicy breakfast recipes
Printable recipe card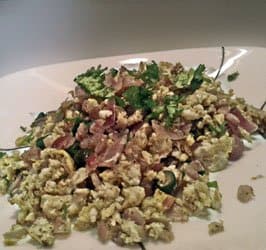 Cajun scrambled eggs
The best Cajun scrambled eggs is creamy and spicy, also soft and moist. It's super easy to make with simple ingredients under 10 minutes.
Print
Pin
Rate
Instructions
Crack open eggs and add to a mixing bowl.

Add salt, black pepper, and cajun seasoning.

Whisk vigorously until it becomes frothy.

Over medium heat, place a pan. Melt the butter in a pan.

Add butter and wait until it melts.

Now stir in the egg mixture to the pan.

Wait until the sides start separate from the pan.

Using a spatula fold them into 4-5 layers one above the other.

Allow it to cook on the bottom.

Repeat the process in small intervals until egg cooks completely.

Transfer to serving bowl and enjoy.
Notes
Cook in the medium to low flame.
Add fresh herbs like parsley, cilantro, basil makes it more flavorful.
Nutrition
Calories:
107
kcal
|
Carbohydrates:
1
g
|
Protein:
8
g
|
Fat:
7
g
|
Saturated Fat:
3
g
|
Cholesterol:
248
mg
|
Sodium:
249
mg
|
Potassium:
117
mg
|
Fiber:
1
g
|
Sugar:
1
g
|
Vitamin A:
954
IU
|
Calcium:
37
mg
|
Iron:
1
mg
**Disclaimer: The nutritional information provided is an approximate estimate only.
Liked our recipe? Follow us on Facebook, Pinterest, and Instagram