Are you a fan of hot sauce? Are you looking for an alternative to your regular breakfast? Either way, this Sriracha scrambled eggs recipe is for you. The creamy texture of eggs combined with the spicy Sriracha sauce creates a delicious dish in just under five minutes.
Infusing the flavors of Sriracha into the scrambled eggs turns out quite delicious. That's perfect to spice up your mornings and to take your breakfast experience to the next level, just like a plate of "Honey Sriracha shrimp" would.
It's no wonder I'm obsessed with these Sriracha egg scrambles. Not only is this recipe quick to whip up, but it's also a surefire hit with the whole family.
The Sriracha sauce adds a tangy, spicy twist that infuses the dish with bold flavors(same as sriracha green beans, sriracha aioli).
Just like other egg recipes, this Sriracha scrambled eggs dish is one that I frequently make in my kitchen(this Cajun scrambled eggs has a special mention too).
The concept of this recipe is super simple-instead drizzling the hot sauce over cooked eggs; we're incorporating it directly into the eggs before cooking.
This ensures that the flavors are spread evenly throughout. That makes each bite a delightful experience.
What's in these Sriracha Scrambled Eggs
Sriracha sauce. This ultimate versatile sauce goes well with just about anything. It's one of the staple ingredients in my kitchen. That I heavily relied upon to spice up dishes instantly, even for this shrimp dish.
Eggs. This recipe uses brown organic eggs, but you may use any of your choices. Feel free to experiment and see the delicious results it yields, whether white eggs, brown eggs, or even duck eggs.
Butter. It's creamy and compliments the eggs and the Sriracha sauce
How to Make Spicy Sriracha Scrambled Eggs
This recipe is super simple and easy to whip up. All you need to have your ingredients ready.
First, crack the eggs into a mixing bowl. Add the Sriracha sauce and whisk vigorously until the eggs become fluffy and are well-mixed with the Sriracha sauce. Set aside.
Place a pan over medium heat, add a teaspoon of butter, and spread it evenly across the pan's surface.
Pour the egg mixture into the pan, allow it to spread throughout the pan as a thin sheet.
Wait about a minute until the eggs start cooking and set at the bottom.
Then, gently stir until it becomes creamy.
Remove the pan from the heat when the eggs are cooked to your desired consistency.
Serve the Sriracha scrambled eggs as a standalone dish or alongside other breakfast items to complete your meal.
How spicy are these Sriracha Scrambled Eggs?
One tablespoon of Sriracha sauce for three eggs yields a mildly spiced dish.
However, since you're making this at home, adjusting the heat level to your preference is not a problem. Simply add more or less Sriracha sauce according to your heat tolerance.
How to serve?
This spicy sriracha scrambled eggs dish is versatile and offers infinite serving options. The ideal way to serve it depends on the occasion, time of day, and your mood on that particular day. Here are some delicious ways to enjoy sriracha scrambled eggs:
As a standalone dish. Simply place the scrambled eggs on a plate and garnish with cilantro, green onions, parsley, or chives, according to your preference.
Over toast. Serve the scrambled eggs on top of toasted bread, such as sourdough or multigrain. Add a layer of sliced avocado.
In a tortilla. Place the scrambled eggs and your vegetables or salsa on a warm tortilla. Fold the tortilla to create a delicious wrap or burrito.
Breakfast sandwich. Spread sriracha scrambled eggs evenly over bread slices, bagels, or English muffins. Add cheese, bacon, or avocado, and serve as a mouthwatering breakfast sandwich.
With greens. Fresh greens like arugula, spinach, or kale make perfect add-ons that pair beautifully with spicy scrambled eggs.
Breakfast bowl. Combine the scrambled eggs with roasted potatoes, sautéed vegetables, and cooked greens. Add avocado, cheese, or garnish for a satisfying breakfast bowl.
As a side dish. Sriracha scrambled eggs can be served alongside classic breakfast sides, such as bacon, sausage, pancakes, waffles, or apple slices. This spicy twist on traditional scrambled eggs will exceed your expectations.
How to store?
Sriracha scrambled eggs are best enjoyed fresh, but refrigeration is a good option if you have leftovers and want to store them for later use.
You can also freeze them, but be aware that storing them in the refrigerator or freezer and reheating them may slightly alter the cooked eggs' texture.
Before storing, allow the scrambled eggs to cool down to room temperature. However, it is not advisable to leave them at room temperature for more than two hours.
Store any leftover sriracha scrambled eggs in an airtight container in the refrigerator for up to two days.
If you store them in the freezer, it stays suitable for up to 4 months.
For reheating, gently microwave in 30 seconds intervals. Or reheat over the stove by tossing it over butter until they are warmed through.
Tools needed for making this recipe
Mixing bowls. A high-quality, versatile mixing bowl is an invaluable tool in any kitchen. Having them in different sizes makes cooking more accessible, including this Sriracha scrambled eggs recipe.
Measuring spoons. These magnetic, stackable measuring tools stay in place and are easy to find and organize.
Skillet. A must-have and highly beneficial addition to your morning routine, a heavy-bottomed skillet ensures even heating and better cooking results.
Frequently asked questions
Do people put sriracha on scrambled eggs?
This sauce instantly elevates a dish, adding bold flavors and a spicy kick. This combination works exceptionally well in this dish.
How much sriracha sauce is needed to make this dish spicier?
1 to 1.5 tablespoons of sriracha sauce should be sufficient to add spiciness to this recipe. If you're considering increasing the heat further, add other spicy ingredients like red chili flakes or chopped hot peppers such as habanero or jalapeño.
Adding more sriracha sauce to the scrambled eggs beyond the recommended amount is not advisable, as it can make the final dish too saucy and overpowering.
Can I make it ahead of time?
Yes, absolutely. You can prepare the egg mixture and refrigerate it for one day. When needed, simply toss them over the skillet with butter.
Printable recipe card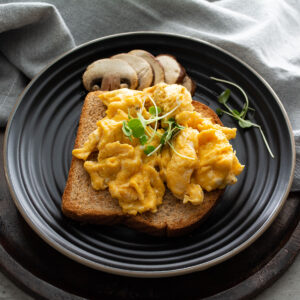 Sriracha scrambled eggs
This Sriracha scrambled eggs tastes incredibly delicious with the creamy eggs with spicy twist from Sriracha sauce, made quickly in 10 mins.
Print
Pin
Rate
Instructions
In a medium size mixing bowl, add the eggs, milk, and Sriracha sauce.

Whisk vigorously until the sriracha sauce combined evenly to the egg mixture.

Now place a skillet over medium heat. And add butter.

Allow the butter to sizzle and spread to the entire bottom of the skillet evenly.

Wait for about a minute until the eggs start to cook and set at the bottom.

Then, occasionally stir until it becomes creamy without burning at the bottom.

Remove the pan from the heat when the eggs are cooked to your desired consistency.

Serve the Sriracha scrambled eggs as a standalone dish or as a side dish.
Notes
Storing Ideas:
In the refrigerator. Store the leftover sriracha scrambled eggs for up to two days.
Freezer. This stays good for up to 4 months.
For reheating. Gently microwave in 30-second intervals. Or reheat over the stove by tossing it over butter until they are warmed through.
Nutrition
Calories:
117
kcal
|
Carbohydrates:
1
g
|
Protein:
9
g
|
Fat:
9
g
|
Saturated Fat:
3
g
|
Polyunsaturated Fat:
1
g
|
Monounsaturated Fat:
3
g
|
Trans Fat:
0.1
g
|
Cholesterol:
252
mg
|
Sodium:
166
mg
|
Potassium:
106
mg
|
Fiber:
0.01
g
|
Sugar:
1
g
|
Vitamin A:
434
IU
|
Vitamin C:
1
mg
|
Calcium:
47
mg
|
Iron:
1
mg
**Disclaimer: The nutritional information provided is an approximate estimate only.