This delicious red ranch sauce is exactly what we need right now in this chilly weather. It's sweet, spicy, and tastes excellent, made with minimal ingredients with less processing time.
Grab a bowl of this zest hot sauce and pair it with the dish of your choice. Voila, you just got your finger licking dish-you can sit back, relax and pat yourself for deciding to make this spicy sauce.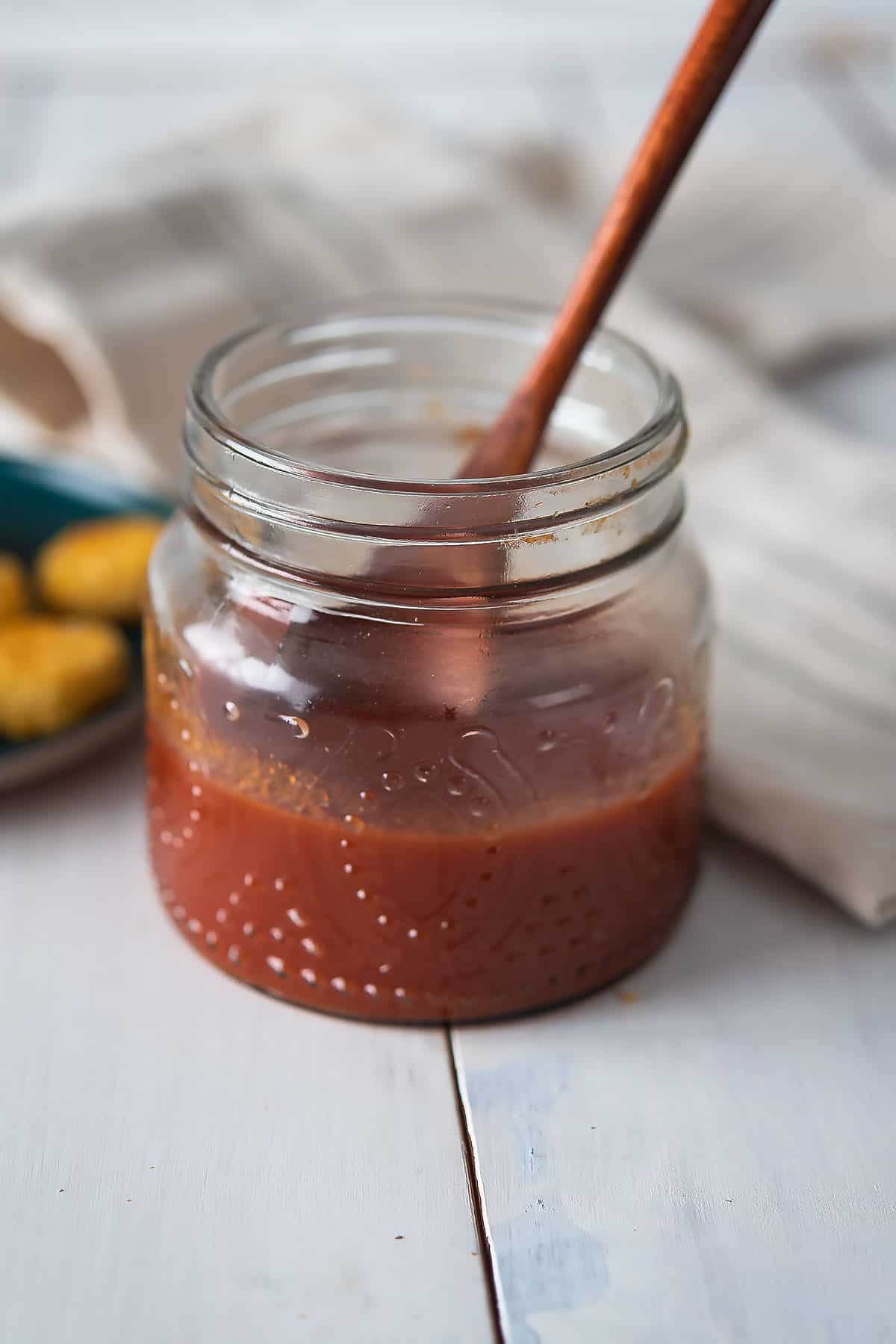 This ranch sauce is packed with complex flavors(same as this boom boom sauce) and ready in less than 10 minutes. And made with the inspiration of Arby's red ranch sauce.
If you are a huge fan of Arby's beef and cheddar sandwich and wondering what makes it so delicious? You know what? The red ranch sauce is a magic ingredient that makes it more special.
And today let's learn how to make this at home with minimal ingredients and the minimal processing time that tastes much similar to the popular restaurant's style.
The ingredients for this red ranch sauce
There are many ways to make this sauce. And like any other recipe there are millions of ways to customize them as well. For today's recipe, let's keep everything simple and straightforward same as this spicy mango sauce.
Tomato ketchup. I have used the store-bought Haynes tomato ketchup. However you may use your favorite brand of tomato sauce/homemade tomato sauce are also more welcome to use.
Onion powder and garlic powder. Both are needed, as these are flavor boosters and make the sauce linger in the palate for a while.
Light brown sugar. A classic version of making a sauce sweeter. I have used light brown sugar, refined sugar, honey but also very good choices to choose from for this red ranch sauce.
Red hot sauce. I always have a big bottle of red hot sauce from Costco. This serves as a versatile ingredient that can instantly spice up the food. Also it adopts and enhances the overall flavors of the dish.
Worchester sauce. Adding Worcester sauce to a tomato-based sauce is the wise choice. A dash of worcester sauce will do wonders.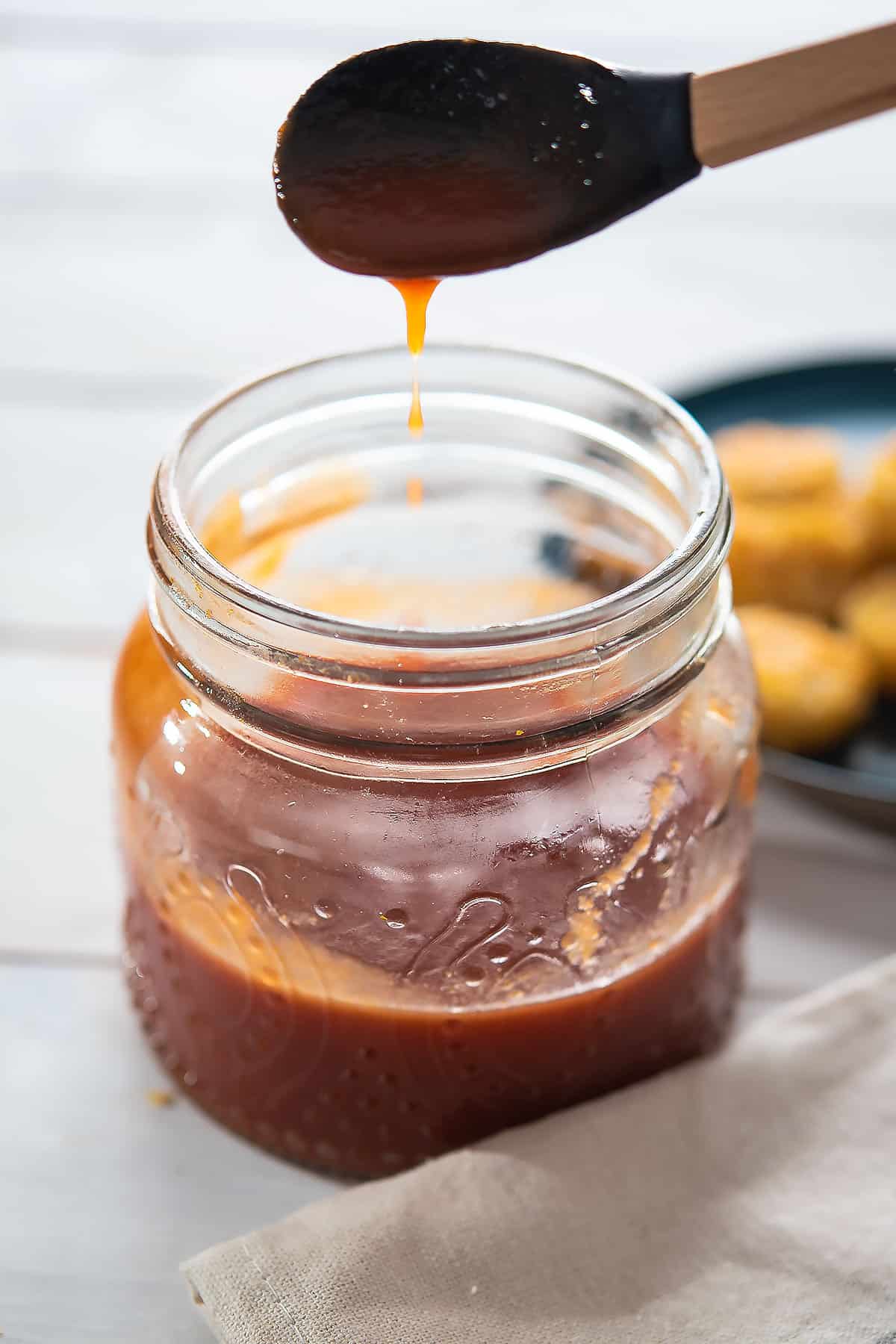 How to make Red ranch sauce
Place a pan over medium heat, and add all the ingredients.
And stir well to make all the ingredients combine well.
Turn the heat to low and stir occasionally.
Let the sauce cook for 7 to 10 minutes or until the surface of the red ranch sauce turns glassy. Allow it to thicken to the desired consistency.
Remove it from the heat, allow it to cool down to room temperature.
Serve with your food and enjoy!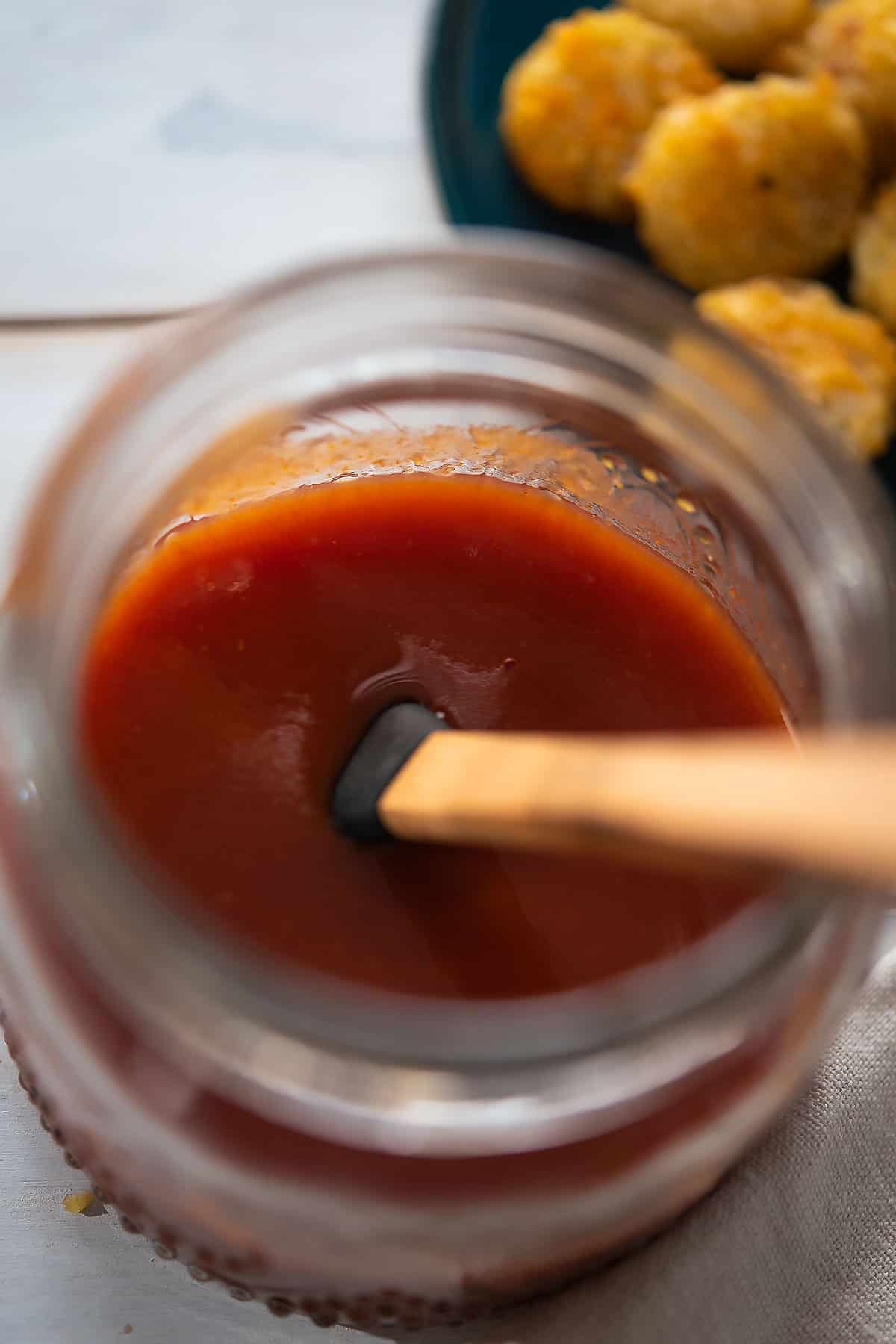 Storage tips
To store. Transfer the sauce to an airtight container and refrigerate it. This red ranch sauce will last up to two weeks in the refrigerator.
To freeze. The sauce is a freezer friendly recipe. Use a space saving freezer friendly storage container for the best results. This sauce is good to use after four months when frozen.
To thaw. Leave this in the refrigerator overnight. Or gently reheat it in the microwave in 30 seconds increments.
Kitchen counter. This is good to use for a day when stored in the kitchen counter.
Frequently asked questions
How to thin the sauce?
The sauce gets thicker when it's cold down. And if you want to thin down the sauce, adjust the consistency with water. Then reheat it gently until it reaches desired consistency.
Can I use fresh garlic and onion instead of powders?
Both onion powder and garlic powder are used as they are more convenient. However you may feel free to use fresh garlic and onion as well.
You may mince it before cooking. Or on the other hand, you may blend the cooked sauce into a smooth consistency.
Can I omit using Worchester sauce?
I have not tried making this red ranch sauce without Worcester sauce. However you may try experimenting by substituting with soy sauce and white wine vinegar.
Best to pair with
Sandwich and burger. Drizzle over sandwich(like this grilled vegetable sandwich) or burger, make the homemade meal to a restaurant quality.
Fries. Serve a dip for the fried food like fries or fried chicken. Or give a quick try this Chinese French fries.
As for dressing. Salads like spicy kale salad, mango cucumber salad tastes awesome with a splash of Red ranch sauce.
As a glaze. Toss with meat and provide the family loving glaze.
Recommended tools for making this recipe
Whisk. Your tools to combine all the flavors into a creamy, dreamy ranch sauce.
Glass bottle. To store your homemade red ranch sauce.
Measuring cups. Great to achieve perfect balance of tangy, creamy, and spicy flavors.
Printable recipe card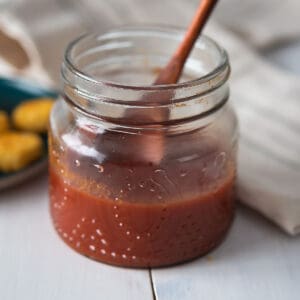 Red ranch sauce
This delicious red ranch sauce is sweet, spicy, and tastes excellent, made with minimal ingredients with less processing time.
Print
Pin
Rate
Ingredients
¼

cup

tomato ketchup

½

teaspoon

onion powder

1

teaspoon

garlic powder

2

tablespoon

brown sugar

¼

red hot sauce

1

teaspoon

worcestershire sauce

¼

cup

water
Instructions
Add all the ingredients to a saucepan, and stir well until all the ingredients gets combined well.

Turn the heat to low and stir occasionally. And cook for 7-10 minutes or until the sauce turns glazzy and thickens to the desired consistency.
Notes
Store in air tight container and refrigerate it use up to one week.
Nutrition
Calories:
17
kcal
|
Carbohydrates:
4
g
|
Protein:
0.1
g
|
Fat:
0.01
g
|
Saturated Fat:
0.002
g
|
Polyunsaturated Fat:
0.003
g
|
Monounsaturated Fat:
0.001
g
|
Sodium:
64
mg
|
Potassium:
29
mg
|
Fiber:
0.1
g
|
Sugar:
4
g
|
Vitamin A:
31
IU
|
Vitamin C:
0.4
mg
|
Calcium:
4
mg
|
Iron:
0.1
mg