Prawn Mango Curry aka  Manga Era Thokku Recipe is insanely delicious. The mango flavor makes this recipe aromatic and authentic. I bet no one can deny on this. Wish to know the secrecy of mango flavored shrimp? step by step instructions and pictures are below.


To me, nothing can replace enjoying homemade non-vegetarian dish in the weekend. I feel energetic when I try a new recipe that turns out successful. I often try different combinations of ingredients, I tell you the secret, most of the time I unconsciously pick mangoes. Maybe I have strong ties towards it, or maybe the flavor I'm addicted to it. I do not know but Thanks to my frozen mangoes, which helps me all the time.
Raw Mango is a universal vegetable can make the best combo with any other ingredient. It is best to be paired up with any seafood. Every mango variety is different, some may be very sour or some have the little sweetness. Too much of sourness can spoil the dish.  So decide the quantity required for this recipe accordingly.
Mango can be added as grated but I love to have them in the bite-size chunky pieces.
If you are searching for other shrimp recipes, then do check Prawn sukka recipe and pepper garlic shrimp.

Prawn Mango Curry / Manga Era Thokku Recipe
Prep time :  5 min ,
Cooking time :  20 min,
Yield : Serves 2
Ingredients:
Shrimp/Prawn  – 500grams
Raw Mango  – 100 grams(lesser if the mangoes are more sour)
Onion  – 1
Tomato  – 1
Chopped Garlic  – 1 tbsp
Chili Powder  – 1 tsp
Coriander Powder  – 1/2 tsp
Turmeric Powder  – 1/4 tsp
Cooking Oil  – 2-4 tbsp
Salt  – 1/2 tsp or as required
How to make Prawn Mango Curry:


1. Heat oil in the pan, add fennel seeds followed by onion. Saute it until onion becomes soft and translucent.


2. Add chopped garlic and continue to saute for a minute. At this moment garlic should have started leaving out it aroma in the air.


3. Add chopped tomato. Saute in medium flame, till the tomatoes become little mushy. Be cautious here, keep stirring when needed without getting burnt at the bottom of the pan.


4. Add mango pieces.


5. Add chili powder, coriander powder, turmeric powder and salt. Stir it for less than a minute.


6. Add 1 cup of water and bring it to the boil. Cook it until the gravy reaches your desired consistency. Make sure the masalas added to the gravy are completely done, leaves out its raw smell.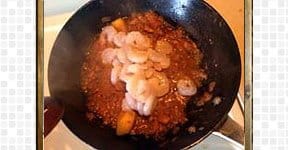 7. Add shrimp and cook it in low flame for about 5 minutes. Check the center of the shrimp. Remove mango shrimp from the fire and serve Prawn Mango Curry with steamed rice.

Serving Suggestions:
1. Serve hot along with steamed rice. Sambar rice is perfect to be paired up with.
Tips and Variations for Prawn Mango Curry:
1. If you prefer to have gravy style masala, add the little water before adding the shrimp.
2. Shrimps get cooked super quick and gets turned rubbery. So do not fry them for longer.
Liked this Prawn Mango Curry Recipe? and Looking for other Shrimp recipes, then do check Shrimp inserted in Toothpick Recipe.
Do not miss latest recipes and its tips, Follow us on Facebook, Pinterest, Instagram