Celery Chutney, is a condiment to be served with any appetizer, Idli, Dosa, Roties. A successful attempt in making use of locally available vegetables. This chutney provides a wholesome taste, perfect to be paired up with any food of your choice.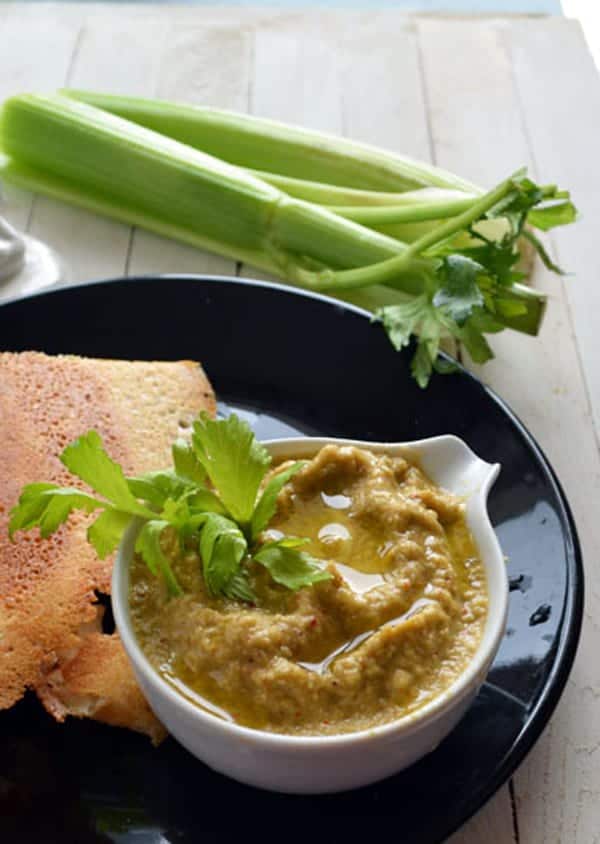 Generally celery is eaten as raw, and it will be served along with the appetizers. They are crunchy and loaded with tonnes of fiber.
I always make sure that I have enough stock of frozen raw mangoes in the freezer compartment. Generally tamarind is used to bring out sourness in the chutneys. But replacing it with raw mangoes provides some extra nutrients with better taste.
Dry roast the bengal gram and urad dal in bulk in advance. Store the remaining grams in air tight container, which it is useful to make instant chutneys and instant chutney powder. Red chilies in the recipe can also be replaced with green chilies or Jalapeno whichever is available handy at that moment.
Normally tempering the chutney is not necessary, but if you wish to add tempering to the chutney, in the hot oil add mustard seeds add them to the prepared chutney.
If you are searching for other chutneys, check out this Poondu Chutney, Radish Chutney.
Celery Chutney, a great side dish for Idli Dosa
Prep time :  5 min ,
Cooking time :  4 min ,
Yeild : Serves 2
Ingredients:
Celery Stalk  – 3-4
Raw Mango pieces  – 1-3
Red Chilies  – 2
Bengal Gram  – 1 tbsp
Urad Dal  – 1 tsp
Asafoetida  – 1/4 tsp
Salt  – 1/4 tsp or as required
How to Make:


Dry roast Bengal gram and Urad dal separately, until they turn golden brown in color. Roaste them in large quantity and save the remaining for the future use.


Wash and clean mango pieces. To the mixer grinder, add roasted Bengal gram, urad dal, celery stalk, raw mango, red chilies, asafoetida and half a teaspoon of salt. Grind them to smooth fine paste by adding little water at a time.
Serve them as condiment for the appetizers or as a side dish for Idli, dosa etc.,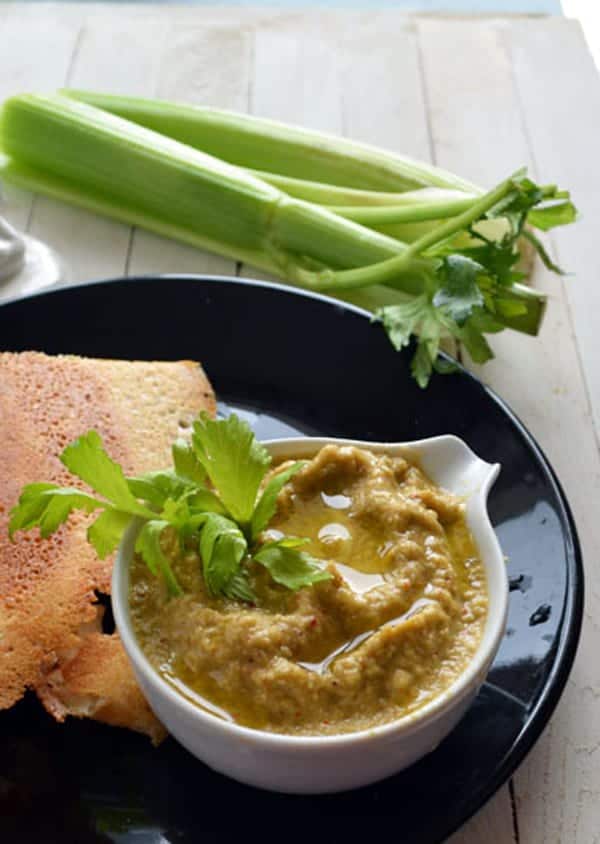 Serving Suggestions:
1. Serve as a dip for any appetizers.
2. Serve as chutney for the Indian Breakfast Dishes like, Idli, dosa, roti etc.
Tips and Variations for Celery Chutney:
1. If raw mangoes are not available, then substitute with a small lemon sized tamarind.
2. Substitute onion/grated coconut for Urad dal/Bengal Gram.
Liked our Celery Chutney recipe? Follow us on Facebook, Pinterest, Instagram