Chettinad Shrimp Sukka can be made in minutes, as shrimps get cooked in seconds. It goes very well with Rice, especially with Sambar Rice and Rasam rice. You should definitely give it a try.

Chettinad Shrimp Sukka is the best spicy side for rice, and best to have as the appetizer too. I'm still in my holiday mood, but the snowy winter outside my window making me go for hot 'n' spicy dish like this recipe.
As shrimps get cooked in seconds, this dish can also be prepared in minutes. It goes very well with Rice, especially with Sambar. You should definitely give it a try.
Jump to:
You may also check with other authentic recipes of South Indian like Madurai Chicken Curry.
Shrimps cooked with warm spices. Serving as the spicy appetizer, with cool salads, makes the moments more beautiful.
What is Chettinad Shrimp Sukka?
Chettinad shrimp sukka is an Indian shrimp fry made in the popular Tamil cuisine Chettinad style. Chettinad cuisine is known for its spicy dishes made with authentic Indian spices. Which is called as prawns sukka locally in India.
In these words, Chettinad is a renowned Tamil cuisine. The word 'sukka' refers to a well-fried dish. In this shrimp fry Indian recipe, shrimp is cooked with ingredients like peppercorn, cumin seeds, garlic, and red chili powder. The dish is very spicy, perfect to serve as an appetizer or as a side dish.
Just to mention shrimp is called 'prawn' in India.
How does it Indian Shrimp fry taste like?
This tastes super hot and spicy perfect for the Indian taste buds. If you are looking for recipes that are fiery for the evening? Or if you are searching for a spicy side dish for a simple everyday meal? This spicy fry is the best for you.
Every single bite of this Indian shrimp fry gives you a wow feeling when paired with a simple dish. Alternate every bite with another mild food, makes you feel like a rollercoaster taste ride.
If you feel that this spice level is hot? Nothing to bother you, you are making at home, so you have full control in adding the spices.
Key Ingredients
Shrimp/Prawns. You may use fresh or frozen shrimp. Remove the shell and remove the vein. Sharp knives would be helpful for removing the vain easily. Wash and clean them a couple of times until clear water is seen.
The store-bought deveined shrimps are great to use, which cuts down the preparation time to 90%. This Indian shrimp fry recipe works with prawn also.
Peppercorn. The whole black peppercorn is the best for the recipe. Crushing them fresh gives an enchanting aroma. Peppercorn does not taste hot at the first bite, but it hits you after tasting a couple of shrimps. So decide the peppercorn level accordingly to make this perfect prawns fry masala.
Garlic. This neutralizes the shrimp's natural odor and at the same time boosts up the flavor of the dish. I would suggest using the garlic cloves and not the garlic powder.
Red chili powder. This adds a nice color and heat to the dish. You may swap it with cayenne pepper or paprika.
How to make Indian Shrimp fry:
Clean, deveined, and wash shrimp well. I always use store-bought frozen shrimp, which cuts down my prepping work a lot.
Grind garlic, grated coconut, cumin, peppercorns, dhania seeds coarsely using a mixer grinder.
In a pan, add fennel seeds and allow it to sizzle in the cooking oil until it changes its color.
Then add shrimp, red chili powder, and salt. Cook, it covered for approximately 4 minutes on each side or until it is done. Stir it occasionally.
Now add the ground coconut, and fry for another 5 min in slow flame, until the masala coats well.
Serve this Spicy Indian shrimp fry with rice or serve as the appetizer.
Tips and Variations for Indian Shrimp fry Recipe:
1. Shrimp tends to become rubbery when overcooked, unlike prawns. To remove from the fire as soon as it gets cooked.
Other seafood recipes you may like,
Printable recipe card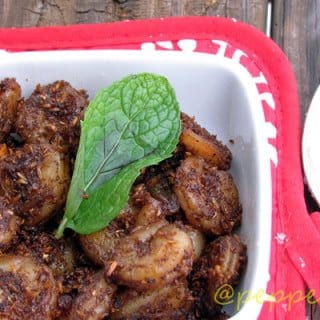 Chettinad Shrimp-South Indian Shrimp Fry
This South Indian Shrimp Fry can be made in minutes, as shrimps get cooked in seconds. It goes very well with Rice, especially with Sambar Rice and Rasam rice. 
Print
Pin
Rate
Ingredients
For prepping
1.5

cup

shrimp

/cleaned, deveined
For grinding
4

tablespoon

grated coconut

1

teaspoon

coriander seeds

1

teaspoon

cumin seeds

3

cloves

garlic
For seasoning
2

tablespoon

vegetable oil

1

teaspoon

fennel seeds

½

teaspoon

red chili powder

¼

teaspoon

salt

or as required
Instructions
For prepping
Clean and wash shrimp well.
For grinding
In the blender jar add grated coconut, coriander seeds, cumin seeds, garlic, and black pepper.

Grind all these ingredients coarsely. And set aside.
For seasoning
Over medium heat, in a pan add vegetable oil and fennel seeds.

Allow the fennel seeds to slightly change its color.

Then add cleaned shrimp, red chili powder, and salt.
For cooking
Stir occasionally and cook for 6 minutes or until it is done.

Then add the ground spice mixture.

Turn to low heat and cook for 10 minutes or until the shrimps are fully cooked.

Serve with rice or as appetizer.
Nutrition
Calories:
305
kcal
|
Carbohydrates:
8
g
|
Protein:
21
g
|
Fat:
22
g
|
Saturated Fat:
17
g
|
Cholesterol:
242
mg
|
Sodium:
1056
mg
|
Potassium:
208
mg
|
Fiber:
3
g
|
Sugar:
1
g
|
Vitamin A:
200
IU
|
Vitamin C:
5
mg
|
Calcium:
189
mg
|
Iron:
4
mg
Do not miss the latest recipes and its tips, Follow us on Facebook, Pinterest, Instagram