"Vegetarian Wonton" belongs to Chinese cuisine! Thanks to globalization as nowadays, these Chinese vegetarian tofu wontons are available every nook and corner of the world by customizing according to their region. This is the vegetarian version of wonton filled with tofu and cabbage. The main ingredient Tofu is responsible for the healthy factor for the recipe whereas cabbage takes care of its excellent texture .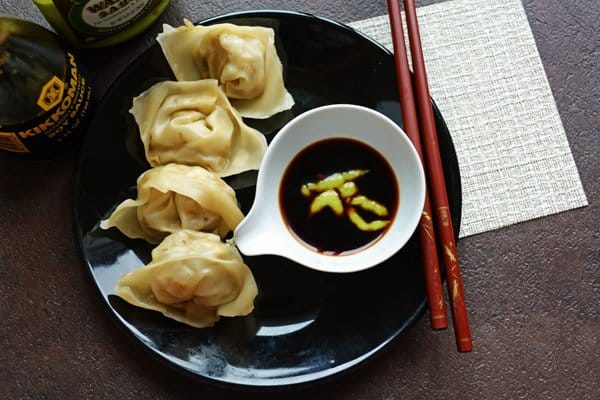 This is the basic version, but you can add the stuffing from broccoli, carrots, minced meat, cauliflower etc., and the sky is the limit in deciding its ingredients. Folding the wontons takes a little time for the beginners so plan accordingly. You could make these patterns before in hand while watching TV or convert this as family time by engaging other family members.
You may be interested in checking out other Chinese recipes like Szechuan noodles, Szechuan fried rice and Szechuan chicken.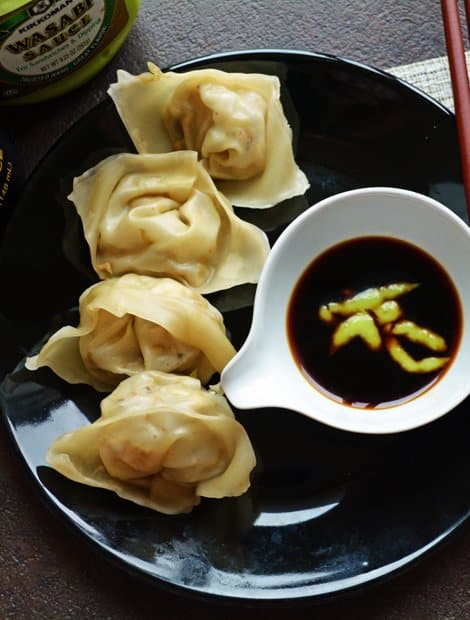 Chinese Vegetarian Wonton with Tofu(steamed Dumblings)
Prep time : 30 min,
Cooking time : 20 min,
Yeild : Serves 2
Ingredients:
Wonton wrappers : 25 sheets
Tofu : 200g
Cabbage : 200g
Capsicum : 50g
Salt : 1/4 tsp or as required
Cooking Oil : 1 tsp
Chopped Garlic : 1 tbsp
How to make:


1. Any form of tofu can be used for this recipe. I went with the larger chunk of tofu, which was available for me in the gorcery store.


2. Shred cabbage, tofu, garlic and chop capsicum finely.


3. Heat pan and add a teaspoon of cooking oil. Then add chopped garlic and saute till it leaves out aroma in the air. Then add finely chopped capsicum and continue to saute for another 2-3 mins.


4. Saute them in medium flame.


5. Once capsicum starts shrinking from its original shape, add shredded cabbage and continue to saute till they are half cooked. Then add shredded tofu and saute for another 2 minutes. Switch off the flame and add salt and keep it aside.


6. Now it is time to prepare the wontons. Place a wonton sheet in a plate. Brush it with water on all the four sides.


7. Scoop a spoonful of tofu mixture and place carefully in the center of the wonton sheet.


8. Fold them as half, and do not fill too much of the mixture as they can not bring out proper pattern.


9. Then gently bring both the corners together, one above the other. And leave the two exterior corners.


10. Repeat the same process for all the remaining wonton sheets.
11. If you are not comfortable with making this pattern, then choose any pattern of your choice.
12. Bring water to boil in the steamer, and arrange stuffed wontons gently over it. And steam it for 8-10 min in medium flame.
13. Once cooked switch off the flame and allow the steam to escape by keeping them aside. Once it cooled down slightly, gently remove and serve super tasty wontons along with soy sauce, I like to add a hint of wasabi sauce to the soy sauce.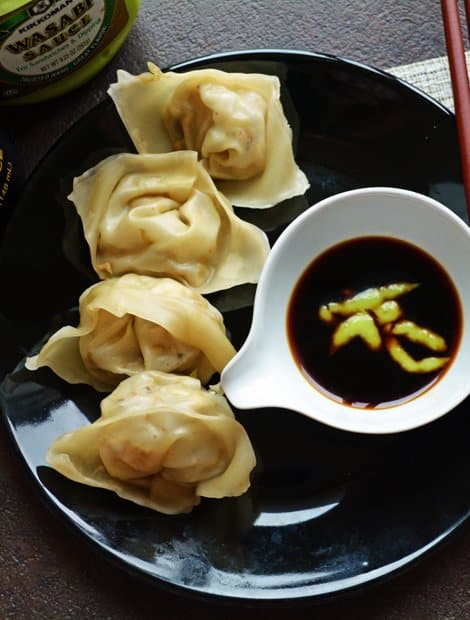 Serving Suggestions:
1. If you are planning to serve as breakfast, serve with soy sauce(My son loved to have with tomato ketchup)
2. If the same recipe is for the dinner then opt for serving with some hot sauces like, chili sauce, wasabi..etc. and think of stuffing with some meat.
Tips and Variations:
1. These patterns are not difficult as they look, try practicing few to achieve best result.
2. Try to go with simple potli wrapping if you are are comfortable with this pattern.Do not forget to look into other indo chinese recipes like, Teriyaki Chicken, Szechuan Noodles.
Do not miss latest recipes and its tips, Follow us on Facebook, Pinterest, Instagram