The avial recipe is delicious, made with a bundle of vegetables, plus super satisfying thanks to the addition of creamy coconut. Plus, it makes you feel optimistic for the rest of the day, for you and the people fed by you. Learn how to make it easy and best avial with step-by-step pictures and video.
This vegetable avial curry is one of the authentic veg recipes in the Indian states of Kerala and Tamilnadu. Furthermore, the avial recipe is packed with multiple vegetables, creamy yogurt, and coconut at every bite.
Without this Kerala-style Avial recipe, the 'Onam' festival becomes incomplete. Coconut and curd play a significant role in Kerala and Tamilnadu cuisine. No wonder how avial became the signature dish of these South Indian states.
Regional curry recipes have a more important place for local vegetables. So the essential ingredients for this easy avial recipe are coconut, which is abundant in Kerala.
When speaking about vegetables, drumstick, plantain, and ash gourd are considered as primary ingredients. Still, they can be substituted in their absence with closely related vegetables discussed in this post.
What is avial?
The word avial can be directly translated as mixed vegetable curry. One of the traditional divine side dishes belongs to South Indian cuisine, especially in Tamil Nadu and Kerala.
Aviyal recipe is all about cooking multiple vegetables at different cooking times. Furthermore, combine in a single dish with a blend of creamy coconut.
The final ingredients, the freshly ground coconut paste, the coconut oil, and the curry leaves, glorify this Kerala aviyal a lot more differently from other world cuisines.
The preparation of the avial recipe is straightforward. It tastes creamy and with the refreshing aroma of coconut oil, which is very well balanced with the fragrance of curry leaves.
Enjoy the same way you enjoy with other vegetarian side dishes of rice. Serve a liberal quantity of avial along with sambar and rice.
Are you searching for similar authentic South Indian side dishes? You may refer to the following,
The vegetables of Avial
We can make the avial with any vegetable of our choice, according to the availability and individual preference. This simple avial recipe tastes perfect with a minimum of 5 vegetables.
The veggie choices are many, and everyone in our family loves or hates this fresh produce. Some of you might be confused now in choosing the vegetables in this vegetarian recipe.
Authentic choices. There is a wide range of options to choose from. To name some drumstick, eggplant, green beans, carrot, plantain, green peas, potato, ash gourd, elephant foot yam(suran). And the list lengthens further.
How to choose vegetables
For the perfect avial recipe, we need three types of vegetables according to their cooking time. Hard to cook, medium to cook, and easy to cook vegetables. This gives fabulous texture to the Kerala avial curry, making this character unique.
Choosing the vegetables according to their cooking time gives you great control over the dish in this recipe and overall cooking. This planning behind the recipe makes us real chefs and more confident in the kitchen.
Choose two vegetables of your choice according to their cooking time. And this gives a tremendous texture and taste to the avial recipe.
Longer cooking time. Hard-to-cook vegetables, like drumsticks, green beans, and artichokes, will fall into this category. This takes longer when compared to other vegetables. It takes 10-15 minutes to cook like a drumstick because of the thick, rough skin.
Medium cooking time. Eggplant, potato, pumpkin, and ash gourd take 7-10 minutes for cooking. These vegetables have thin skin and get cooked quickly.
Least cooking time. Some vegetables need a few minutes to cook. It gets cooked as soon as it gets entered into hot water. And some vegetable has a soft texture and do not need a cooking time that we can eat raw.
Vegetables like plantain, cucumber, and carrot have the least cooking time.
Avoid beetroot, okra, and bitter gourd as they heavily impact the color and taste of the vegetable avial.
How to cut the vegetables for avial
The avial recipe generally calls for Julian to cut vegetables. That is missing the vegetables to the size of a matchstick thin. This gives the visual pleasure of the rainbow of colors of veggies. Additionally, it is easy to scoop with the hands while eating.
Always wash, rinse, and then peel the vegetables. Washing, rinsing, and peeling are the ideal cleaning steps; this is my choice. And others may differ in it.
Slice the vegetables crosswise evenly and consistently. Arrange some of the slices together and cut perpendicularly to get matchstick-thin veggies. Repeat for all the other vegetables.
Ingredients of avial Recipe
Veggies. As discussed above, choose two vegetables from each category: hard to cook, medium to cook, and easy to cook vegetables. But traditionally, this is made with drumstick, ash gourd, carrot, green beans, plantain, green peas, and more.
Curd/Yogurt. Thick, creamy curd/yogurt would be a great addition to this recipe. You may use Greek yogurt or plain yogurt. But make sure that it is fresh and non-sour. I use homemade yogurt.
Coconut paste. This is the most variable and vulnerable in South Indian cuisine. We need rightly matured coconut. More matured coconut will bring a robust nutty flavor, and young coconut will not bring consistency to the curry.
How do you select the perfectly matured coconut? This is tricky; you know your luck only after you break the coconut open. If you are in Southern India, no worries. Your stores already carry the right one for you.
But for people like me who reside outside India, it is a problem to get reasonable quality coconut.
So, what is a reliable method? I always buy the grated coconut from the Indian stores, which costs around $3 and can last 4-5 months upon freezing. I use coconut a lot; it lasts for at least a month for my family.
Whenever needed, take a small portion and microwave for 30 seconds. I use my heavy-duty blender to make it a smooth, fine paste. This is working for me here in the United States. Guessing this information helps you as well.
If you read this recipe, I can understand your love for Indian cooking. I'm guessing Indian stores are accessible to you. Please visit the nearby store and get the frozen grated coconut. And you will wonder how the coconut paste tastes creamier than you thought.
Curry leaves. These are the gems you can get from the Indian stores. The aroma that is created in the Kerala avial recipe is incredible. No close substitutions are available for this, but you may skip if you do not have it. The absence will not break the recipe.
Green chili. This adds heat and a mild, noticeable flavor. You can use Thai green chilies and serrano peppers. Adjust the quantity according to your preference. This avial recipe with curd tastes mild and creamy. So, keeping it subtle and minimal is suitable for the dish.
If you prefer, you may deseed green chili for less heat.
Cumin seeds. These are aromatic and give a great taste.
Coconut oil. Nowadays, most grocery stores carry coconut oil—cold press, organic, and non-GMO versions. Choose according to your choice and wallet. We add it in the very final stages of cooking like a garnish. But the aroma added to this dish is unbelievable.
Turmeric powder/optional. Some family adds it. I opted out of turmeric powder as I wanted Avial to look in a beautiful creamy color, but adding turmeric powder would also bring out an equally good yellow color to the dish. So, it is ultimately you to decide on this factor. This is a choice for your individual preference.
Best to Serve
This authentic Kerala avial recipe tastes delicious with rice. It is best to pair with the following.
Make-ahead and Storing ideas
Chopping the vegetables is a real burden. Allow some extra time just to cut the vegetables. No gain comes without pain. Good, healthy food needs some extra effort. Glad you are on the right path.
You can chop the vegetables ahead of time, say a day before. Secure and refrigerate them in the airtight containers. So that the nutrients will not get lost in the due course.
How to make Avial
Prepping Work
Chop all the vegetables to matchstick thin size.
Grind grated coconut, cumin, and green chili to a fine paste and keep aside.
Whisk yogurt and keep aside.
Cooking
Avial is a mixture of vegetables with varied cooking times. So, we are dividing the vegetables into three according to their cooking time. First, we add it hard to cook vegetables. Once it is half done, we add the medium-to-cook veggies and easy-to-cook vegetables. This may sound difficult, but it is straightforward once you understand the idea.
In a pan, add 3 cups of water and combine the veggies according to their cooking time.
Here, I have added a drumstick first.
Once the drumstick is cooked at 25%, add salt, spring beans, chayote, and potato.
Adding salt while adding the medium to cook vegetables helps spread even.
Once veggies are half done, add easy-to-cook vegetables like plantain, carrot, and green peas.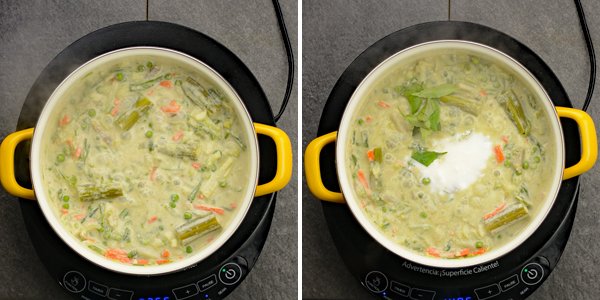 Cook until vegetables are done; that is should stay in shape and should be smashed, if pressed in between the fingers.
Final touches
Stir in ground coconut paste, curry leaves and allow to boil for another 3-4 minutes.
Combine whisked yogurt and coconut oil allow it to cook for a minute.
Switch off the stove and stir gently. Serve hot with rice.
Printable recipe card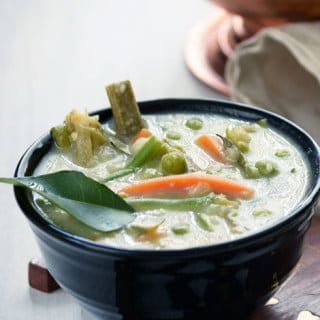 Avial Recipe - Kerala Vegetable Curry
Easy Kerala Avial recipe, with a mixture of vegetables cooked with curd and coconut paste. Learn how to make this Kerala avial curry with instructions for ingredients and preparations.
Print
Pin
Rate
Ingredients
For grinding
½

cup

grated coconut

½

teaspoon

cumin seeds

2

green chili

/serrano pepper

¼

cup

water
For cooking
3

cups

water

1

drumstick

drumstick, carrot, green beans, chayote, green peas, plantain

1

cup

green bean

julienne cut

1

cup

chayote

/white pumpkin-julienne cut

1

cup

potato

julienne cut

1

cup

green banana

julienne cut

1

cup

carrot

julienne cut

1

cup

green peas

julienne cut

1

teaspoon

salt

or as required
For seasoning
½

cup

yogurt

or curd-whisked

8

curry leaves

1

tablespoon

coconut oil
Instructions
For grinding
To the spice jar, add grated coconut, cumin seeds, green chili, and water.

Grind to a smooth and fine paste. Set aside.
For making
Over medium heat in a pan stir in 3 cups of water. Add vegetables according to their cooking time.

1 stage-add drumstick and cook for 10 minutes. Or until it becomes soft in the center.

2 stage-add green beans, chayote, and potato. And cook for 7 minutes

3 stage-add easy to cook vegetables like, green banana, carrot, and green peas.

Add salt and cook for 5 minutes.
For seasoning
Now stir in the ground coconut paste and cook for 3 minutes.

Then add yogurt, curry leaves, and coconut oil. Combine well.

Remove from the heat and serve hot with rice.
Notes
If the gravy is thinner then dilute cornflour in water. Add and allow it to boil for 3-4 min until it gets thickens.
Add more stilted green chilies for more hot version.
Nutrition
Calories:
371
kcal
|
Carbohydrates:
49
g
|
Protein:
6
g
|
Fat:
19
g
|
Saturated Fat:
16
g
|
Cholesterol:
8
mg
|
Sodium:
1445
mg
|
Potassium:
977
mg
|
Fiber:
16
g
|
Sugar:
16
g
|
Vitamin A:
212
IU
|
Vitamin C:
122
mg
|
Calcium:
178
mg
|
Iron:
3
mg
**Disclaimer: The nutritional information provided is an approximate estimate only.
Do not miss the latest recipes. Follow us on Facebook, Pinterest, Instagram