The grilled veggie sandwich is a healthy and quick recipe, made with onion, tomato, cucumber, avocado. Perfect for all-day including breakfast, lunch, and dinner. A simple dairy-free, vegan, and vegetarian recipe.
Would you ever deny a delightful request from your beloved ones? This 'grilled veggie sandwich' popped up today on my blog after one such request.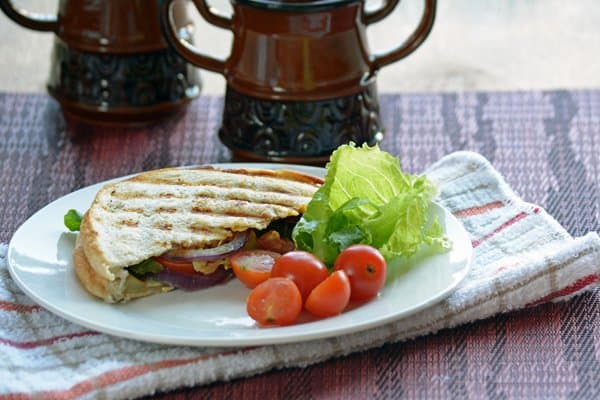 My brother was complaining about not finding special quotes for him anywhere here in my blog. I thought this recipe would be the perfect choice to calm him.
Yes, It's my brother's favorite. And he always wishes me to make these veggie sandwiches for him.
Brother, how can I ever forget our playtime, study time? You are the one who stood as the shield to protect me all the time.
You are the one, to get into all trouble for all the naughty childhood mistakes I make. Those are happy, enjoyable, memorable moments that are still fresh in my thoughts.
As for as this grilled veggie sandwich is concerned, We keep our boundary not only for breakfast, but we extend beyond that, all time and anytime.
This recipe may found very simple but be topping up with chili sauce, tomato ketchup, does bring out different flavors every time we make.
Interested to check out other healthy breakfast options? Do look into Coriander Bread Sandwich, Pineapple Bread.
Why grilled veggie sandwich?
The tags like dairy-free or vegan do not mean that it has to be flavor-free or dull. The vegan dairy-free recipes can be turned to bright, refreshing and energetic dishes effortlessly.
Proper planning and proper selection of ingredients are the main factors in deciding the dish to be fresh or dull. And has nothing to do with the label of dairy-free or the vegan.
This grilled veggie sandwich comes together in about 15 minutes from scratch to the end. It is still a vibrant, creamy, and satisfying all-day breakfast dish.
The vegetables
Any vegetable is great to add to this recipe. My choices are but not limited to the onion, bell peppers, tomatoes, avocados, and zucchini. The zucchini in the mushrooms is also great for making this grilled veggie sandwich recipe.
You do not really need to go out for grilling in the chilling weather like this. Vegetables can get to cook very easily when grilled. You can enjoy refreshing grilled vegetables still with the comfort of a sitting inside the home.
Avocado is a healthy substitute for cheese in vegan. Opting for a vegan is not meant that to compromise on the taste and this grilled veggie sandwich recipe is proof to support this statement.
Layering the sandwich
We can divide the grilled veggie sandwich layers into two. The first one is grilled vegetables and the second is fresh vegetables.
Onion and bell pepper adds the texture to the sandwich and should always keep as a basic layer in the sandwich. Grilled zucchini can be added and next to two onion and bell pepper. Tomatoes become soft and tender after grilling so it is best to be on the top of grilled vegetables.
Cucumber can be eaten as raw and should be kept on top of all the ingredients. It has a neutral taste and it balances all the other flavors. And in addition, it adds rich crunchy to the dish. And it's also an important cool ingredient to start the day brightly.
We are making a standalone vegan grilled veggie sandwich that does not need any cheese or mayo substitutions. For this recipe, I don't prefer using them at all as this itself a wholesome and creamy. And I bet you will not need any sort of cheese substitutes to make it richer. If you still need any, opt for vegan mayo or vegan cheese.
The bread
The choice of bread totally depends on the choice of your preference for this grilled veggie sandwich. You may also use white, multigrain, honey wheat, crusty French or Italian bread to make.
I always go with the honey wheat bread as it's the texture is in between the white and the whole wheat bread. Generally, I don't prefer whole wheat bread to make this because it is not firm enough to hold the weight of the vegetables.
Marination for the grilled veggie sandwich
Cut all the vegetables and transfer to a ziplock bag with the extra virgin olive oil, dried oregano, and salt for about 1 hour in the refrigerator. Rich flavors of olive oil and the oregano will get infused with the vegetables and would taste extremely delicious when it gets grilled. This margination makes the flavors outstanding and tempting. I would recommend marinating for at least 15 minutes to 1 hour prior to grilling.
How to how to store the leftovers?
Store the leftover vegetables in a zip lock bag or in an airtight container and refrigerate. This stays good for a week. And to reuse, you reheat in the pan on stovetop. And you may add fresh slices of cucumber or avocado or a pickle and relish.
Tips for grilling
You may use a stovetop griller pan, or portable griller or a regular griller.
Vegetables have a different texture and different cooking time. So the time to grill also varies for each vegetable. Vegetables like zucchini or tomatoes will get cook faster than asparagus or eggplant.
You do not need to be accurate while grilling. The sandwich will be more flavorful even if the vegetables are not done completely.
You can arrange all the slices of vegetables over the grill and cook at the same time. For the first few minutes cooks at the high temperature, once you start seeing the grill marks, then you may cook in the medium temperature. You can remove the vegetables when it changes its color.
Other spicy dinner recipes
Printable recipe card
Grilled veggie sandwich
The grilled veggie sandwich is a healthy and quick recipe, made with onion, tomato, cucumber, avocado. Perfect for all day including breakfast, lunch, and dinner. A simple dairy free, vegan, and vegetarian recipe.
Print
Pin
Rate
Ingredients
4

slices

onion

4

slices

tomato

4

slices

zucchini

4

slices

cucumber

4

slices

green pepper

½

avocado

1

tablespoon

extra virgin olive oil

¼

teaspoon

oregano

dried

⅙

teaspoon

salt

or as required

4

slices

bread
Instructions
Slice onion, tomato, zucchini, cucumber, green pepper, avocado evenly.

In a ziplock bag, add extra virgin olive oil, oregano, salt, and all the vegetables except avocado. Rest it for 5 minutes.

Grill all the vegetables.

Grill the bread on both the sides.

Start stacking the grilled veggies over a slice of bread in the order of onion, bell pepper, zucchini, tomato, cucumber, avocado and end with the bread.

Serve hot with Tomato Ketchup or mustard sauce.
Notes
Do not need to marinate the cucumber and avocado. Slice it before serving.
Nutrition
Calories:
376
kcal
|
Carbohydrates:
48
g
|
Protein:
9
g
|
Fat:
17
g
|
Saturated Fat:
2
g
|
Sodium:
501
mg
|
Potassium:
973
mg
|
Fiber:
10
g
|
Sugar:
14
g
|
Vitamin A:
6325
IU
|
Vitamin C:
253.5
mg
|
Calcium:
108
mg
|
Iron:
3.2
mg
Serving Suggestions:
Serve along with fresh fruit salad or fresh juice. Ketchup, the mustard sauce would be the best to serve with.
Tips and Variations:
The vegetables can vary from mushrooms, bell peppers/capsicum, tomato, cucumber, zucchini. etc.
Do not miss the latest recipes and its tips, Follow us on Facebook, Pinterest, Instagram.