Looking for a flavor popping snack? These little sweet mini lunchbox peppers will never disappoint you. It tastes wonderful, packed with intense flavors and has no heat. Game day or leisure snack, this mini peppers could turn as an impeccable finger food.
Furthermore, these lunchbox peppers are available and in brilliant colors, like green, yellow, red and orange.
What are lunchbox peppers?
Lunchbox peppers are also called as "mini bell peppers" or "mini sweet peppers". And are widely available in the grocery stores during the summer months. Due to its popularity and versatility, do not get surprised even if you see them during the frosty season.
These are great for snacking. It tastes excellent in whatever way we make them-as raw, grilled, or as roasted mini peppers. Thinking of storing for a longer time? Go ahead and turn them as a sauce or a spice mix. Choices are multiple and each one of them are unique and fabulous.
These peppers have a crunchy texture, sweet flavor and would not tingle the taste buds with its heat. Not to mention that these categories made them termed as 'snacking peppers'.
To put it simply, these are the miniature versions of the regular bell peppers.
How does this lunchbox pepper look?
These peppers measure about two to three inches long, and one inch at the shoulder. It has a glossy skin and a medium wall structure. The seeds are clustered to a white membrane at the center.
The grocery stores usually carry them in a package of multiple colors, making them more appealing and appetizing.
What do they taste like?
These lunchbox peppers taste fruity, peppery and with a mild sweetness and has a crunchy texture. These have similar taste and flavor profile of bell peppers.
When we have a bite, we first notice the fruity flavor and the sweetness that spreads throughout the palate. And then the peppery flavor follows and lasts for a while.
What is the Scoville heat score?
These peppers have no heat. A heat causing component called Capsaicin is absent in this lunchbox pepper(similar to bell peppers).
And this property of mini sweet peppers makes to measure zero in the Scoville scale(for your reference, Scoville scale units are the popular way of measuring the heat in any pepper).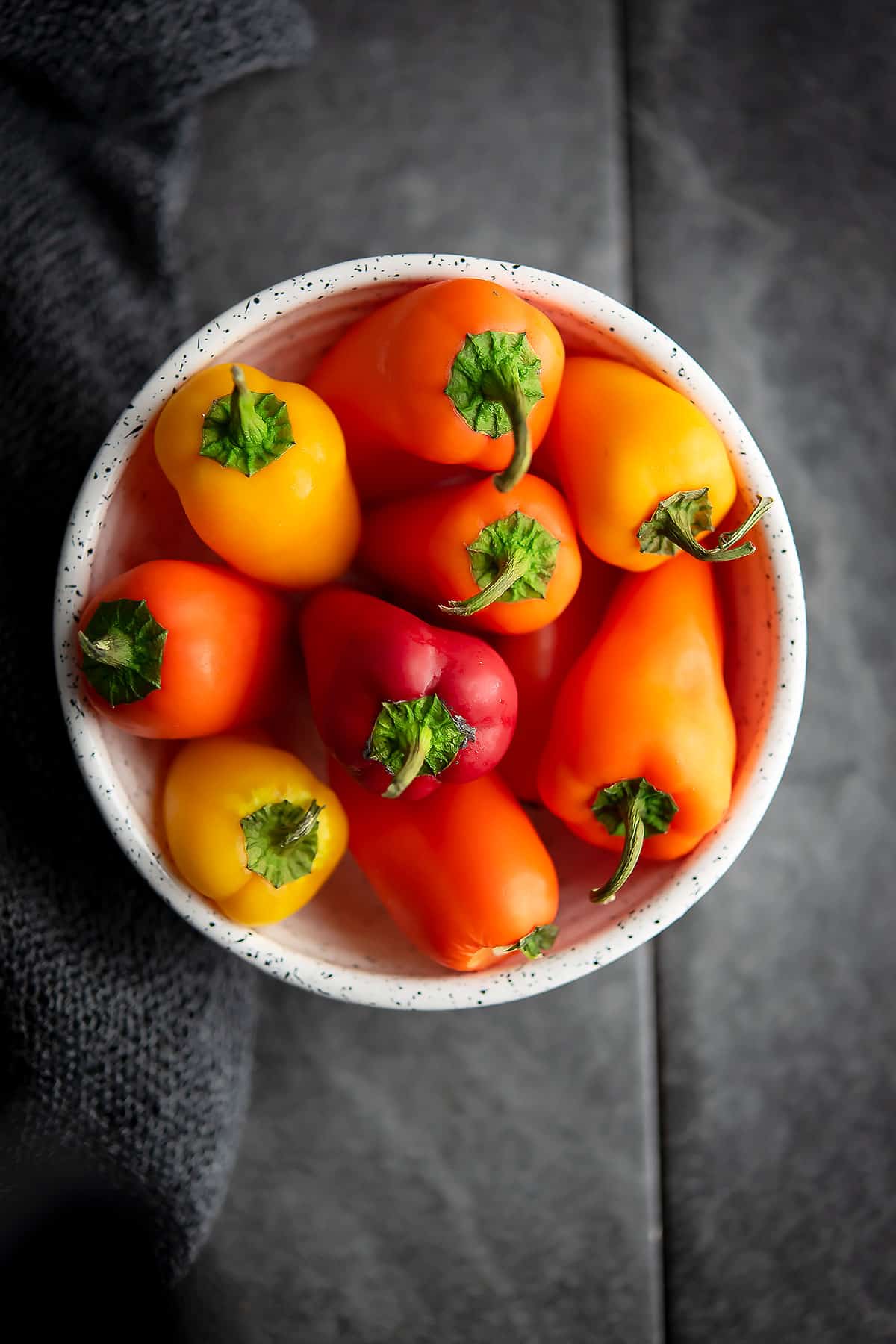 What's the unique characteristics of lunchbox peppers?
As we have already discussed, we get these peppers in multiple colors.
Like many other peppers, these do not grows gradually from green to orange and red. But actually the young green color mature to any one of these colors-red, orange, or yellow.
Hence there are different types of seeds needed to produce different colors of peppers.
So, when we are planning to make a backyard garden with an intention of producing different colors of lunchbox peppers, start with different colored varieties of seeds.
How to use them in the recipes?
These lunchbox peppers are incredibly versatile. It's good to toss them in the salad and it's great to enjoy munching straight away from the package. In addition to that, grilling and roasting the peppers are also fabulous to enjoy.
As a snack. Serve raw lunchbox peppers with the simple dipping sauce like ranch, hummus, or enjoy them with spicy boom boom sauce.
In the salads. Toss them in the salads like Greek chicken salad or a southern style fiesta salad, or spicy kale salad. More than that, it adds the crunchiness and the sweetness that make the whole dish a fabulous one.
Stuffed. Stuff with cream cheese or goat cheese and make the family gathering or game day more memorable.
As a spice mix. Have you harvested huge peppers from your backyard or returned with a big bag of peppers from the farmers market? You hit the jackpot. You can preserve them by dehydrating it and making them as a spice mix that tastes similar to paprika.
Sauce. Are you a big fan of sauces? these lunchbox peppers are ideal for making sauces like this green taco sauce.