Learn how to make soft Roti or Chapati, the popular Indian bread which is a staple food for North India. But in later times, it became the common food for the rest of India too.
Over the past few decades, doctors started advising to include wheat along with the rice. Roti a fiber-rich food and has to be served with spicy gravy and curry.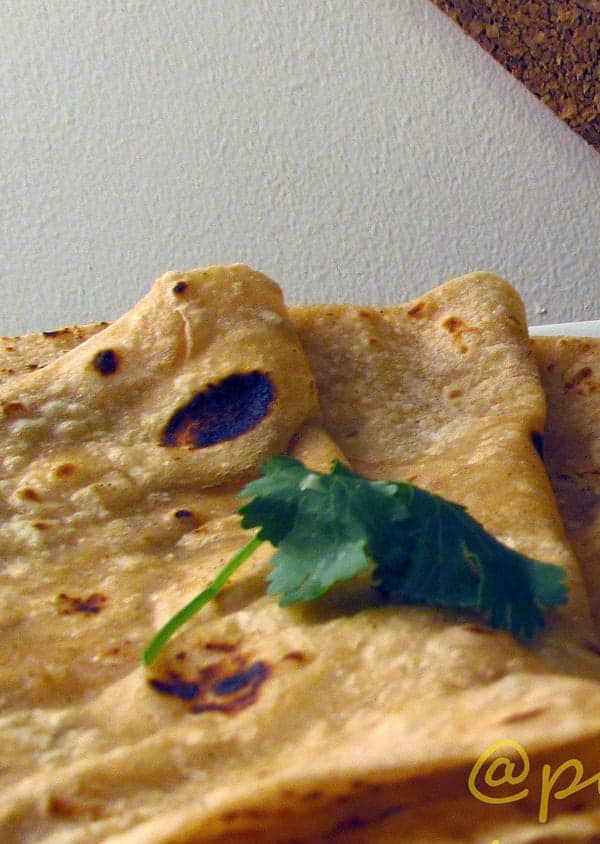 This soft roti is our dinner dish that I make almost every other day. This Indian food recipe is very simple and the ingredients are minimal and almost available in all kitchen across the globe. The ingredients are universal, and everyone will have access to get them from the stores.
How to make soft roti? the making, the process, and the list of ingredients do sound very simple. But getting soft roti is definitely not an easy task, which needs lots of practice and tips to make.
I do not want to threaten you much about getting the right results. We are here, and you can make the soft roti in the world with the tips and secrets shared in this post.
Jump to:
What is Roti?
Roti or otherwise called chapati is an unleavened flatbread made with whole wheat flour. Generally made with whole wheat flour called 'Aata' locally in India. To say precisely, it is called chapati in South India.
How does this taste like?
This roti is plain and does not have a strong flavor. It tastes plain, like a thin wheat tortilla bread. But these are very soft that melts in your mouth. Since the roti bread recipe is basic and subtle, any spicy curry or gravy would be the perfect pairs to serve with.
How to make soft roti with modern equipment
A simple homemade roti recipe does not need any fancy types of equipment for making. How to make soft roti? You need is a rolling pin, a baseboard, a pan. But if your wallet permits, there are some very good equipment available in the market now to ease the making of soft roti.
I know a friend who makes the roti dough in the kitchen aid mixer, and she stores it for a week. A food processor is also a good machine for kneading the dough.
Tortilla press or Indian roti maker is the popular machines available for pressing the dough like even circles.
Make-ahead idea
You may knead the dough well in advance. Generally resting the dough from 30 minutes to 2 hours makes the roti soft.
If you want to make ahead of time, then knead the dough well, coat the dough with a teaspoon of cooking oil and cover it with a clean cotton kitchen towel.
Applying cooking oil and covering with the kitchen towel, helps to retain the moisture content of the dough, makes it pliable while spreading out.
Storing ideas
You can also make roti well in advance for up to 3 days prior to the day of serving. To store, always use an airtight container and make sure to cover the roti with a soft cloth to ensure to trap the moisture.
You may use hot packs, casseroles for storing for a day. You may leave it on the kitchen counter for single-day use.
Can we keep chapati in the fridge?
Yes, You may refrigerate roti to use up to 4 days. To store for more than a day, use freezer friendly zip lock covers, glass containers, other food-grade plastic containers. And freeze to use up to 3 months.
How to reheat roti?
You cannot reheat the roti just like you do for other food dishes. To reheat, you may opt for the stove-top, oven, or microwave method. Thaw the roti before reheating, or adjust the temperature and time described below.
Stovetop
When using a stovetop, heat a flat-surfaced pan. And place a single roti, sprinkle few drops of water, and flip it to the other side. Sprinkle a few drops of water on the other side as well. Use a water sprayer for best results. Follow this procedure for the remaining roti.
Oven
When using the oven for reheating, preheat the oven to 400-degree Fahrenheit. Use the sheet pan, place each roti with a gap between them. Cook for about approximately 2 minutes or until it gets cooked completely.
Microwave
This method is good to use to consume immediately, otherwise, the microwave makes the roti hard and chewy.
Why is my roti so hard?
The thickness of the dough makes the roti harder. Then how to make soft roti? The dough has been easily pliable for making soft roti. You can test the dough before spreading.
To test, take a small lemon sized portion of dough. And keep it between your palms. Try rolling them to make balls. You should make the ball, look into it.
If the ball is not uniform or it has cracks on the sides, then the dough is thicker. Then to the remaining dough, sprinkle little water at a time and start kneading.
If the dough sticks between the hand, then the dough is watery. To solve this, sprinkle whole wheat flour at a time and start kneading again.
How do you keep Rotis soft?
To keep the roti soft for a longer time, always store them in the airtight container by covering with the kitchen cloth or cheesecloth, or cotton towel. This traps the moisture that creates while storing and retains the chapati softer. You may also apply clarified butter to store roti soft longer. And this is the traditional way that has been followed for the century of years.
Why are my chapatis chewy?
The quality of the whole wheat flour decides the texture of the roti. So always use a good quality ingredient to get better results. Alternatively, chapatis tend to become chewy when it is not stored properly or made properly. Follow all the tips that we have discussed here for making and storing to make the roti soft like soft tissue.
Which Atta is good for health?
'Atta' is the whole wheat flour, and staple food of North Indian for thousands of years. Which denotes that it is good for health. So the answer to how to make soft roti would be to use whole wheat flour for making soft roti. When buying whole wheat flour, make sure the package says, it is 100% whole wheat flour.
Wish to know my favorite sides for hot roti, yummmm..try these recipes as well, Malai Kofta, Bindi Masala, Aloo Palak, Cottage Cheese Paneer Masala.
Other spicy dinner recipes
Printable recipe card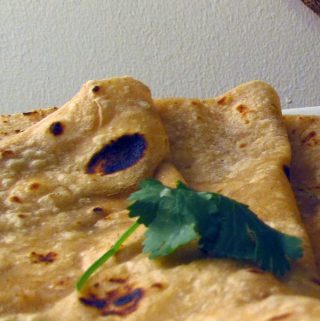 How to make soft Roti
Learn how to make soft Roti or Chapati which is the staple food of North India. It's a fiber rich food, and tastes great when served with spicy gravies and curries.
Print
Pin
Rate
Ingredients
11/2

cup

whole wheat flour

½

cup

water

½

teaspoon

salt

or as required

4

tablespoon

vegetable oil
Instructions
In a bowl, mix wheat flour, salt, and water. Add water little by little, as it should get watery.

Mix it with water and knead it well till it becomes a soft smooth round ball, which should not stick to the sides of the vessel.

Make into small balls approximately to the 2 inches in diameter.

With the help of rolling pin, spread it gently into a thin flat circle.

Heat a flat surface pan on the stove. And place wheat thin on the hot pan.

Cook both the side until brown spots visible.

Drizzle a teaspoon of cooking oil on both the sides of the roti.
Notes
1. Serve along with dry, semi gravies and gravies. I love to have along with just salads as well. Raitha could also be its best companion.
2. Stuff some dry, cooked veggies, sprinkle some tomato sauce and serve as a roll for the kiddos.
Nutrition
Calories:
1355
kcal
|
Carbohydrates:
238
g
|
Protein:
44
g
|
Fat:
35
g
|
Saturated Fat:
23
g
|
Sodium:
591
mg
|
Potassium:
1198
mg
|
Fiber:
35
g
|
Sugar:
1
g
|
Vitamin A:
30
IU
|
Calcium:
112
mg
|
Iron:
12
mg
Do not forget to check out another side dish recipe for roti, potato Kurma here in PepperBowl
Tips and Variations for how to make soft roti:
1. Add mashed potatoes or avocados along with chili powder and cumin powder for parathas.
2. The dough should be soft and not watery. Leave them for 30min -45min for softer chapatis.
3. Add lukewarm water for kneading brings out much softer chapatis.
Do not miss the latest recipes and its tips, Follow us on Facebook, Pinterest, Instagram