'Crispy Baked Eggplant Recipe / Easy Crispy Eggplant' is perfect recipe is great for snack/appetizer. The best way of celebrations.Best for use as the main ingredient for making sandwiches, lasagnas.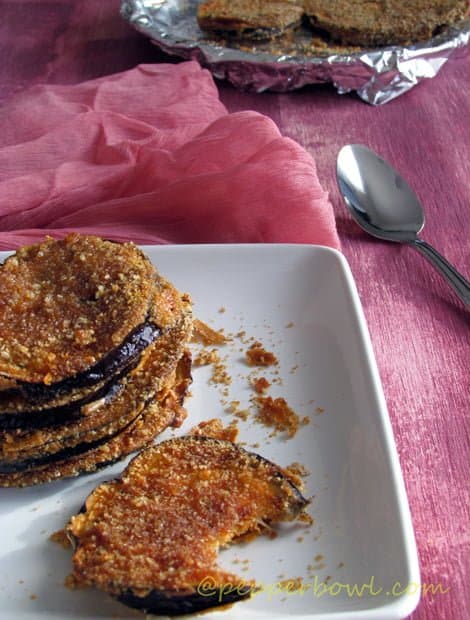 Yeah... Celebrations with crispy baked eggplant, I have upgraded to my own domain "https://www.pepperbowl.com". Please continue to provide me the same support, assistance.. as usual. It has been a great journey from 'pepperbowl.blogspot.com' to 'pepperbowl.com', with the most enjoyable learning curve.
At first, I have started my blog just as an album for my newly tried food images but within a weeks time, I was loaded with lots of images(I can't call them as 'photographs' as they served ONLY as proofs of my cooking).
Blogging is pretty addictive and made me think it is a little serious... Ah. This is my story of 'how a blogger has become my Home Page'.
Jump to:
Looking for other vegetarian exotic recipes? have you looked into crispy Okra or homemade baked tortilla recipe or baked hot pocket cookies?
This Delicious crispy baked eggplant is great for an appetizer. It goes very well with sandwiches, lasagnas..etc..If you try this, I'm sure you will be going in for this same recipe again and again.
The process of marinating the eggplant slices in salt releases a bitter black liquid which changes the texture of the eggplant. This makes them rich in texture and crispy when eggplant slices are baked. Let's go to the recipe now.
How to bake eggplant crispy?
The important factor determines the crispiness in the crispy baked eggplant is the moisture content of it. This eggplant becomes soggy when we do not address this issue.
The eggplants tend to soft and moist after it gets cooked. It is because, the moisture prevents it from becoming crispy, so our first goal in this recipe is to remove its moisture. There are multiple ways to remove its moisture, the trusted method I depend on is by 'eggplants sweating'.
What do eggplants sweating means?
The process of removing the moisture and the bitterness from the eggplant is called eggplants sweating.
Earlier, eggplant sweating is done primarily to remove its bitterness. But the hybrid varieties which we get nowadays does not taste bitter and hence it does not require sweating as well. Forget the good old days, this crispy baked eggplant requires sweating is to make it firm and crispy after baking.
Eggplants sweating can be done using salt. For this sprinkle salt on the eggplant slices. And stack them together, keep weight on top of them. This pressure helps to remove the excess moisture out of eggplant and makes perfect crispy baked eggplant.
How to serve crispy baked eggplant?
I love to have this crispy eggplant to serve the way it is. The nice crispy breaded crust with the hit of spices makes it perfect to serve as the snacking dish or as the first course of the meal. But when serving for others or to serve yourself on a special occasion, here are some of the ideas to make easy crispy baked eggplant ultimately delicious.
Ranch. the creamy texture would be a nice pair to these oven baked eggplant slices.
Dijon mustard and white vinegar. This adds a nice kick and mild tang to crispy baked eggplant.
Sriracha Sauce. Thinking of making this recipe with a wow factor, serve them with a hot and spicy sauce like this.
Garlic dip. Combine, onion powder, garlic powder, cayenne pepper to melted butter.
Tomato ketchup. This is the classic companion that never fails.
How to make crispy baked Eggplant Recipe
The preparing- The first and foremost step is the same as any other recipe that starts with washing and cleaning. Wash and clean the eggplants well. I always wash them with warm water to remove any unwanted substances that coat the vegetable.
Cutting- Slice eggplant evenly in the same thickness. A quarter inch of thickness would be ideal for this baked breaded eggplant.
Eggplant sweating- For this, spread all the slices and sprinkle salt. Flip and do on the other side as well. Then stack them one above the other.
Keep a cast iron pan or heavy bottomed pan for about 45 minutes. This process will take out the moisture and bitterness. You could see thick black liquid as a residue around the eggplant slices.
then, pat dry them with a paper cloth.
Make the crust- In a mixing bowl, add cornstarch, cayenne pepper, and salt with the little water. The mixture should be neither too thick or too think. Thicker corn starch will make it super hard and chewy.
Coat them- Set two bowls, one for corn starch mixture and fill the other with panko bread crumbs. First, dip it in the liquid bowl and cover with the bread crumbs on both sides. Shook off the excess if any.
Bake- The final step to make crispy baked eggplant, grease baking sheet or line it with parchment paper. Arrange the slices, without crowding. them for baking. Bake it in the preheated oven at 350 degrees Fahrenheit for about 20 minutes or until it becomes golden brown. Flip them occasionally.
Serve hot.
Other appetizer recipes you may like
Printable recipe card
Crispy Baked Eggplant Recipe
'Baked Eggplant Recipe / Easy Crispy Eggplant' is perfect recipe is great for snack / appetizer. Best way of celebrations.Best for using as the main ingredient for making sandwiches, lasagnas.
Print
Pin
Rate
Ingredients
1

eggplant

sliced to ¼ inch thickness

5

tablespoon

cornstarch

2

tablespoon

cayenne pepper

½

teaspoon

salt

or as required

¼

cup

water

5

tablespoon

bread crumbs

/panko bread crumbs preferably-or as needed
Instructions
For prepping
Slice eggplant for ¼ inch thickness.

Spread them apart and sprinkle salt on each slice.

Over chopping board, stack them together vertically, by having 4-6 slices in each stack.

Place a heavy cast iron pan(for its heavy weight) above all the stacked eggplant. Try adjusting the slices to balance the heavy weight pan.

Take out the pan. Wipe off the black bitter liquid released by the eggplant.

Pat dry the egg plant slices with kitchen towel. Make sure you remove the black liquid.
For dipping
In the first mixing bowl, add cayenne pepper, cornstarch, salt, and water.

In the second bowl, add bread crumbs.
For arranging
Preheat the over for 350 degrees Farenheit.

Line a sheet pan with parchment paper.

Dip each eggplant slice in the first bowl liquid mixture.

And drop it in another bowl, coat the eggplant well with breadcrumbs.

Arrange them leaving 1-inch space in between.

Make and bake them in batches.
For baking
Bake it for 20 minutes in the 350 degrees in the preheated oven, by flipping them occasionally.

Remove it from the oven, and allow it to cool.
Notes
This recipe is best suitable for appetizer/snack.
The leftovers can be used to making eggplant lasagnas, casseroles.
Nutrition
Calories:
249
kcal
|
Carbohydrates:
53
g
|
Protein:
6
g
|
Fat:
3
g
|
Saturated Fat:
1
g
|
Sodium:
774
mg
|
Potassium:
680
mg
|
Fiber:
10
g
|
Sugar:
10
g
|
Vitamin A:
2258
IU
|
Vitamin C:
9
mg
|
Calcium:
74
mg
|
Iron:
2
mg
Do not forget to check out another recipe of Apple Chips, here in PepperBowl.