This delicious jalapeno spinach dip is loaded with excellent flavors and popping up colors. And not only that, it's creamy, cheesy and spicy all at once. A terrific combination that could satisfy your family and guests.
Whether it is a special occasion or a family weeknight meal, this delicious side dish could meet up all your expectations.
From the name, you could guess its main ingredients. Yes, this jalapeño spinach dip is made with jalapeños, spinach, and a few other simple gradients. All you need is dump, mix, and bake(like this jalapeno artichoke dip).
This creamy and savory jalapeño spinach dip is one of our favorite side dishes to pair with chips of all kinds, veggies, bread, or meat.
And has all the potential to become a star dish in any party or an event. Not to mention, it's a great easy to make dish great for the get-togethers and also for the holiday season.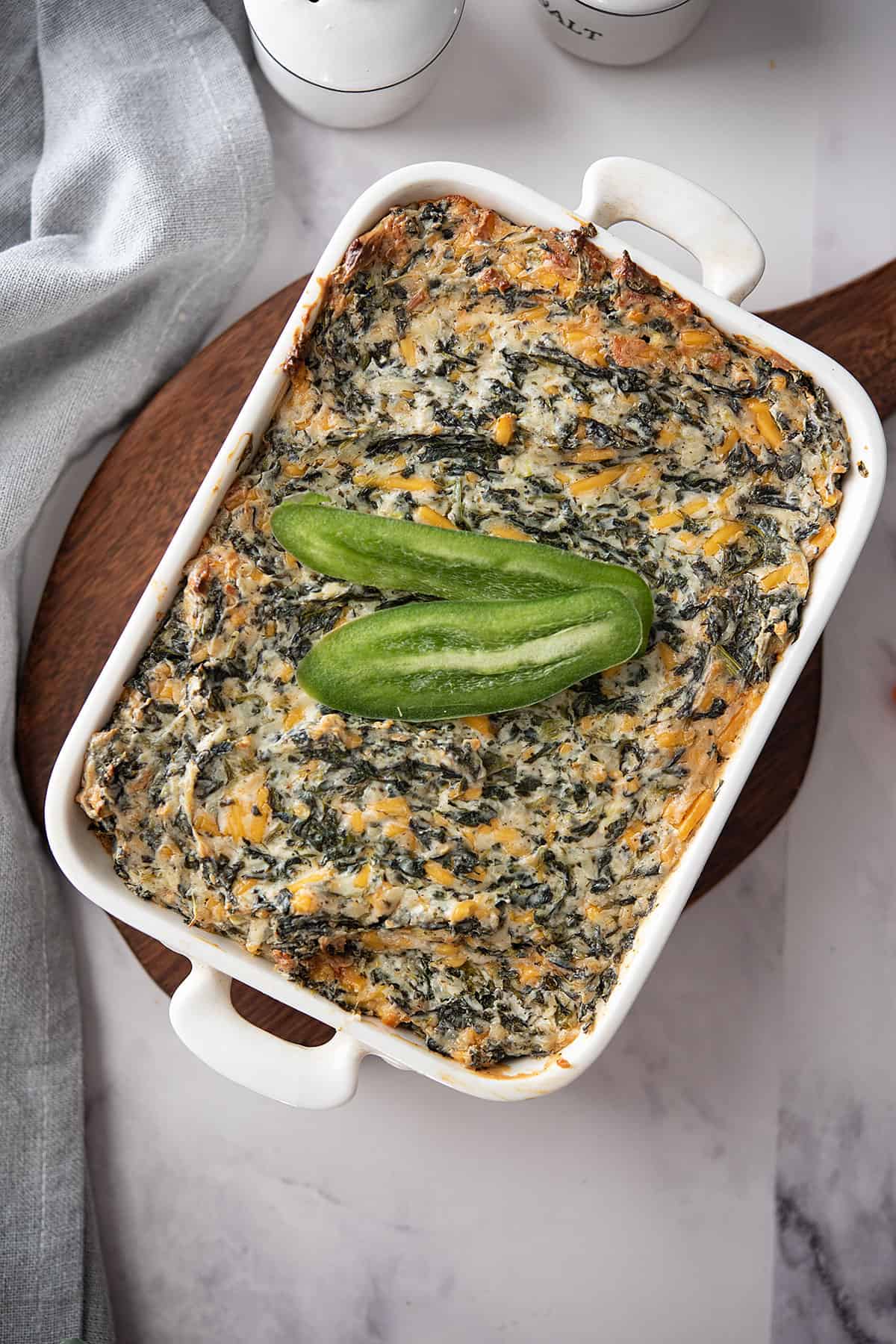 And above all, if you take them to a party you would always return home empty bowls.
The ingredients
Spinach. Adds nutritious value to the dip. On top of it also provides a nice contrast green color and an appetitive look.
Jalapeños. It boosts up the flavors and also gives a spicy kick. I have used fresh jalapeños(it worked great in this jalapeno sour cream dip as well). However, pickled or frozen peppers are also equally good depending on their availability or personal preference.
And to minimize the heat, you may remove the seeds and the white membrane before adding to this jalapeno spinach dip recipe.
If you are a beginner, always wear a pair of gloves while working with jalapeños to avoid any skin sensitivities.
Cream cheese. Gives a body and a creamy texture to the dip. Go for low-fat cream cheese to keep the calorie count low.
Sour cream. Providing a slight tanginess also helps to thin the jalapeno spinach dip to the desirable consistency. Feel free to substitute with Greek yogurt.
Garlic. A dip recipe is incomplete without the garlic. Gives a fresh and savory flavor.
Cheese. I have used sharp cheddar cheese. Parmesan, mozzarella cheese are also most welcomed in this recipe.
Spices. Black pepper and salt makes this dish a complete one.
Step by step instructions
Preheat the oven to 350°F.
If you are using the frozen spinach, firstly let it thaw. To thaw you may leave it in the refrigerator overnight or gently microwave it for 30 seconds.
And then drain and squeeze out the excess liquid.
In a large mixing bowl, add softened cream cheese, sour cream, Parmesan cheese, roughly chopped jalapeños, minced garlic, salt and crushed pepper.
Using a whisk mix all the ingredients until they are combined together.
Now add the squeezed spinach to the mixing bowl and stir gently until the spinach is evenly distributed into the mixture.
Transfer the spinach mixture to the baking dish and spread it evenly.
Bake the dip for about 25 to 30 minutes or until the edges turn golden brown and the top surface turns slightly crispy.
Remove it from the oven and allow it to cool for a few minutes.
And enjoy the jalapeño spinach dip with favorite dipping snacks like toasted bread, tortilla chips, with veggie strips.
How spicy is jalapeno spinach dip?
The spiciness of this jalapeño spinach dip is highly customizable according to our personal preference. Jalapeños are considered as a moderately hot chili pepper.
If you are using the whole jalapeño, the spice level of this dish could be mild/medium level of spiciness(make a note that the heat level varies highly on every pepper).
If you prefer the dip to be with mild spice, you can scoop out the seeds and the white membrane inside the jalapeños and add just a flesh of the pepper. This way the jalapeño spinach dip is loaded with all the jalapeño flavors minus the heat.
More dip recipes
Besides this jalapeno spinach dip recipe, here are some other delicious spicy dip recipes that are sure to please.
Thicker consistency dips. Spicy peanut butter, Jalapeno cream cheese, Carrot sriracha hummus, Jalapeno avocado sauce
Thin consistency dips. Cajun aioli, Jalapeno cheese sauce, Jalapeno ranch, Jalapeno sour cream dip
How to store jalapeno spinach dip?
Usually in my home, and the jalapeño spinach dip gets finished off as soon as it's made. If you have leftovers, then I recommend refrigerating.
Refrigerate. This creamy dip is good to store in the refrigerator for about 3 to 4 days in an airtight container.
Freezer. This dish doesn't provide the best results when frozen, as a spinach texture can turn out to be watery and mushy when thawed. And that ruins the entire dish. So, I would highly suggest refrigerating for the best results.
Makeahead options?
This spicy spinach dip is a make ahead friendly recipe. To tell you the truth, making a head of time allows the flavors to develop and meld together.
You can make it two days in advance, and do not forget to store it in an airtight container. And refrigerate it until you're ready to enjoy the dip.
Give a good stir until all the ingredients combine well. If you find the dip in the thicker consistency, you can adjust the consistency by adding a splash of milk or a couple of teaspoons of sour cream until it reaches your desired consistency.
What to serve with?
Though any appetizer of your choice would work well, the following are some of the suggestions.
Chips. The classic way of enjoying this jalapeño spinach dip is to serve it with chips like tortilla chips or pita chips.
Crackers. The whole-grain, multigrain, or any type of crackers will absolutely work well. And pretzels are also a great combination to try out.
Bread. Baguette slices or crostini are my family's favorite .
Vegetables. Fresh cut vegetables like celery, carrots, cucumbers, bell peppers are always a healthy and efficient option.
Unlimited options. Serving suggestions are unlimited. Feel free to be creative and try different dipping options to suit your personal choice.
Tools needed
Mixing bowl. A large, making mixing bowl that stays in the place is great while risking the ingredients.
Microwave. If you want to serve the dip warm, an efficient microwave is needed to heat up before serving.
Air tight containers. A good quality airtight container is needed for better results.
Can I make a skinny version of this jalapeño spinach dip?
Yes absolutely this recipe is highly customizable.
Greek yogurt. Substitute the entire or part of sour cream with Greek plain Greek yogurt. The Greek yogurt is high in protein and low in fat and works as a healthy substitution.
Reduced fat cheese. Use low fat cheese to cut down the saturated fat.
Baked chips. Serve along with baked tortilla or pita chips. Serve with vegetables for a healthy, low calorie option.
Printable recipe card
Jalapeno spinach dip
This jalapeno spinach dip is loaded with excellent flavors. It's creamy, cheesy and spicy combination satisfies your family and guests.
Print
Pin
Rate
Ingredients
¼

cup

jalapeno

roughly chopped

12

ounce

frozen spinach

thawed and drained

8

ounce

sour cream

8

ounce

cream cheese

softened

1

teaspoon

garlic

minced

½

teaspoon

peppercorn

crushed

1

cup

parmesan cheese

grated

11/4

cup

mozzarella cheese

shredded
Instructions
Preheat the oven to 350 degrees Fahrenheit.

Thaw and drain the spinach. And squeeze out the excess liquid as much as possible.

In a mixing bowl, add sour cream, cream cheese, crushed peppercorn, and chopped jalapeno.

Mix until all the ingredients are combined thoroughly.

Now stir in spinach and gently mix until it is evenly distributed throughout the mixture.

Transfer to the baking dish.

And bake for up to 25-30 minutes until the edges becomes golden brown and the top surface turns crispy.

Remove it from the oven and allow it to cool for about 10 minutes.
Notes
You may substitute frozen spinach with cooked and drained spinach.
Store the jalapeno spinach dip leftover in the refrigerator for up to 3 days.
You may use the squeezed-out excess water from the thawed frozen spinach for other recipes like soups or sauces.
Nutrition
Calories:
664
kcal
|
Carbohydrates:
12
g
|
Protein:
34
g
|
Fat:
55
g
|
Saturated Fat:
31
g
|
Polyunsaturated Fat:
2
g
|
Monounsaturated Fat:
15
g
|
Cholesterol:
169
mg
|
Sodium:
1132
mg
|
Potassium:
497
mg
|
Fiber:
2
g
|
Sugar:
6
g
|
Vitamin A:
10205
IU
|
Vitamin C:
11
mg
|
Calcium:
893
mg
|
Iron:
2
mg
**Disclaimer: The nutritional information provided is an approximate estimate only.